Mounted Linear Bearings for Spline Shafts
Ready to mount on your linear motion spline shaft, these bearings come installed in a housing and have grooves that match up with the splines on your shaft. Because they're splined, they transfer rotational force as they move loads up and down the shaft's length. A flanged end makes them best for lifting and lowering loads on vertical shafts. All have fixed alignment—use them where shaft misalignment is unlikely.
Ball bearings, also known as ball splines, create less friction than plain bearings, making them smooth and precise even at high speeds. However, they don't produce as much rotational force. Choose them for robotic systems and other automated applications that require complex, fast movements.
Plain bearings have evenly sized and spaced splines that transmit more rotational force than ball bearings, but they don't move as smooth and won't run at high speeds. They're often used in hydraulic systems, drivetrains, and machine tools. All meet ISO 14-A (formerly DIN 5463-A), a dimensional standard for splined cylindrical bearings.
For technical drawings and 3-D models, click on a part number.
Steel Ball Bearings with Steel Housing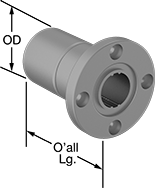 Ball Bearing


For

No.

of
Splines
For Shaft


Dia.,

mm
Overall


Lg.,

mm
Flange


OD,

mm
Bolt Circle


Dia.,

mm

OD,


mm

Max.

Torque,




in.-lbs.

Max.




Temperature,




° F

No.


of
Thread
Size

Each

Fixed Alignment

4
6
25
30
22
14
13
176°
4
M3 × 0.5 mm
00000000
000000
4
8
25
32
24
16
18
176°
4
M3 × 0.5 mm
00000000
00000
4
10
33
42
32
21
38
176°
4
M4 × 0.7 mm
00000000
00000
4
13
36
43
33
24
185
176°
4
M4 × 0.7 mm
000000000
00000
4
16
50
50
40
31
531
176°
4
M4 × 0.7 mm
000000000
00000
4
18.2
60
51
40
32
734
176°
4
M4 × 0.7 mm
00000000
000000
4
20
63
58
45
35
929
176°
4
M5 × 0.8 mm
000000000
000000
4
23
70
60
47
37
1,433
176°
4
M5 × 0.8 mm
00000000
000000
4
25
71
65
52
42
1,672
176°
4
M5 × 0.8 mm
000000000
000000
4
28
80
70
54
45
2,557
176°
4
M6 × 1 mm
00000000
000000
4
30
80
75
60
47
2,716
176°
4
M6 × 1 mm
000000000
000000
4
37.4
100
90
72
60
5,637
176°
4
M8 × 1.25 mm
00000000
000000
4
40
100
100
82
64
5,964
176°
4
M8 × 1.25 mm
000000000
000000
Steel Plain Bearings with Steel Housing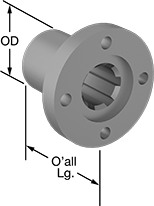 Plain Bearing


For

No.


of
Splines
For Shaft


Dia.,


mm
Overall


Lg.,


mm
Flange


OD,


mm
Bolt
Circle


Dia.,

mm

OD,


mm

Max.




Torque,




in.-lbs.

Max.




Temperature,




° F

No.


of
Thread
Size

Specifications
Met
Each

Fixed Alignment

6
20
40
52
38
28
911
212°
4
M5 × 0.8 mm
ISO 14-A, DIN 5463-A
000000000
0000000
6
25
50
62
48
34
1,902
212°
4
M6 × 1 mm
ISO 14-A, DIN 5463-A
000000000
000000

Splined on Both Ends

Splined
End ×
Step-Down
End

Four Splines


Dia.,


mm

Lg.,


mm
Spline


Lg.,

mm
End Type

Dia.,


mm

Lg.,


mm
Specifications Met
Each
6
150
150
Splined End × Splined End
__
__
__
00000000
0000000
6
200
200
Splined End × Splined End
__
__
__
000000000
00000
6
300
300
Splined End × Splined End
__
__
__
000000000
000000
8
150
150
Splined End × Splined End
__
__
__
00000000
00000
8
200
200
Splined End × Splined End
__
__
__
000000000
00000
10
200
200
Splined End × Splined End
__
__
__
00000000
00000
10
300
300
Splined End × Splined End
__
__
__
000000000
000000
10
600
600
Splined End × Splined End
__
__
__
000000000
000000
13
200
200
Splined End × Splined End
__
__
__
000000000
00000
13
500
500
Splined End × Splined End
__
__
__
000000000
000000
13
700
700
Splined End × Splined End
__
__
__
000000000
000000
16
200
200
Splined End × Splined End
__
__
__
000000000
00000
16
700
700
Splined End × Splined End
__
__
__
000000000
000000
18.2
350
200
Splined End × Step-Down End
15
150
__
00000000
000000
20
200
200
Splined End × Splined End
__
__
__
000000000
000000
20
2,000
2,000
Splined End × Splined End
__
__
__
000000000
000000
23
350
200
Splined End × Step-Down End
20
150
__
00000000
000000
25
200
200
Splined End × Splined End
__
__
__
000000000
000000
25
500
500
Splined End × Splined End
__
__
__
000000000
000000
28
450
300
Splined End × Step-Down End
25
150
__
00000000
000000
30
300
300
Splined End × Splined End
__
__
__
000000000
000000
30
1,000
1,000
Splined End × Splined End
__
__
__
000000000
000000
30
2,000
2,000
Splined End × Splined End
__
__
__
000000000
000000
37.4
550
400
Splined End × Step-Down End
30
150
__
00000000
000000
40
400
400
Splined End × Splined End
__
__
__
000000000
000000
40
700
700
Splined End × Splined End
__
__
__
000000000
000000
20
1,000
1,000
Splined End × Splined End
__
__
ISO 14-B, DIN 5463-B
000000000
000000
25
1,000
1,000
Splined End × Splined End
__
__
ISO 14-B, DIN 5463-B
000000000
000000