Mounted Linear Sleeve Bearings for Support Rail Shafts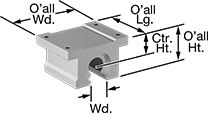 Virtually maintenance free, these bearings have slippery, chemical-resistant liners that don't require added lubrication. Mount them on a support rail shaft for applications requiring maximum rigidity.
Bearings with 0.0005" shaft clearance are best for precision applications. Bearings with 0.001" or 0.0015" shaft clearance are less likely to bind on your shaft than bearings with 0.0005" shaft clearance.
Self Aligning—Bearings compensate for shaft misalignment.
Fixed Alignment—Bearings are for use where shaft misalignment is unlikely.
Frelon liners are stronger and more wear resistant than PTFE liners.
For technical drawings and 3-D models, click on a part number.
For
Shaft


Dia.

Shaft
Clearance

Lg.

Wd.

Ht.

Center


Ht.

Wd.

Dynamic
Load
Capacity
Static Load


Capacity,




lbs.

Temperature


Range,




° F

For
Shaft
Material

No.


of

Dia.

Each

Self Aligning

Frelon-Lined

6061 Aluminum Bearings with 6063 Aluminum Housing

1/2

"
0.0005"
1

1/2

"
2"
1

1/8

"

11/16

"

5/16

"
150 lbs. @ 100 fpm
1,900
-400° to 400°
Steel
4

5/32

"
00000000
000000

1/2

"
0.0015"
1

1/2

"
2"
1

1/8

"

11/16

"

5/16

"
150 lbs. @ 100 fpm
1,900
-400° to 400°
Steel
4

5/32

"
00000000
00000

1/2

"
0.0005"
3

1/2

"
2"
1

1/8

"

11/16

"

5/16

"
350 lbs. @ 100 fpm
3,900
-400° to 400°
Steel
8

5/32

"
00000000
000000

1/2

"
0.0015"
3

1/2

"
2"
1

1/8

"

11/16

"

5/16

"
350 lbs. @ 100 fpm
3,900
-400° to 400°
Steel
8

5/32

"
00000000
000000

5/8

"
0.0005"
1

3/4

"
2

1/2

"
1

7/16

"

7/8

"

3/8

"
200 lbs. @ 100 fpm
2,900
-400° to 400°
Steel
4

3/16

"
00000000
00000

5/8

"
0.0015"
1

3/4

"
2

1/2

"
1

7/16

"

7/8

"

3/8

"
200 lbs. @ 100 fpm
2,900
-400° to 400°
Steel
4

3/16

"
00000000
00000

5/8

"
0.0005"
4"
2

1/2

"
1

7/16

"

7/8

"

3/8

"
500 lbs. @ 100 fpm
5,800
-400° to 400°
Steel
8

3/16

"
00000000
000000

5/8

"
0.0015"
4"
2

1/2

"
1

7/16

"

7/8

"

3/8

"
500 lbs. @ 100 fpm
5,800
-400° to 400°
Steel
8

3/16

"
00000000
000000

3/4

"
0.0005"
1

7/8

"
2

3/4

"
1

9/16

"

15/16

"

7/16

"
250 lbs. @ 100 fpm
3,800
-400° to 400°
Steel
4

3/16

"
00000000
000000

3/4

"
0.0015"
1

7/8

"
2

3/4

"
1

9/16

"

15/16

"

7/16

"
250 lbs. @ 100 fpm
3,800
-400° to 400°
Steel
4

3/16

"
00000000
000000

3/4

"
0.0005"
4

1/2

"
2

3/4

"
1

9/16

"

15/16

"

7/16

"
600 lbs. @ 100 fpm
7,600
-400° to 400°
Steel
8

3/16

"
00000000
000000

3/4

"
0.0015"
4

1/2

"
2

3/4

"
1

9/16

"

15/16

"

7/16

"
600 lbs. @ 100 fpm
7,600
-400° to 400°
Steel
8

3/16

"
00000000
000000
1"
0.0005"
2

5/8

"
3

1/4

"
1

15/16

"
1

3/16

"

9/16

"
500 lbs. @ 100 fpm
7,000
-400° to 400°
Steel
4

7/32

"
00000000
000000
1"
0.0015"
2

5/8

"
3

1/4

"
1

15/16

"
1

3/16

"

9/16

"
500 lbs. @ 100 fpm
7,000
-400° to 400°
Steel
4

7/32

"
00000000
000000
1"
0.0005"
6"
3

1/4

"
1

15/16

"
1

3/16

"

9/16

"
1,000 lbs. @ 100 fpm
14,000
-400° to 400°
Steel
8

7/32

"
00000000
000000
1"
0.0015"
6"
3

1/4

"
1

15/16

"
1

3/16

"

9/16

"
1,000 lbs. @ 100 fpm
14,000
-400° to 400°
Steel
8

7/32

"
00000000
000000
1

1/4

"
0.0005"
3

3/8

"
4"
2

1/2

"
1

1/2

"

5/8

"
800 lbs. @ 100 fpm
10,000
-400° to 400°
Steel
4

7/32

"
00000000
000000
1

1/4

"
0.0015"
3

3/8

"
4"
2

1/2

"
1

1/2

"

5/8

"
800 lbs. @ 100 fpm
10,000
-400° to 400°
Steel
4

7/32

"
00000000
000000
1

1/2

"
0.0005"
3

3/4

"
4

3/4

"
2

7/8

"
1

3/4

"

3/4

"
1,000 lbs. @ 100 fpm
14,000
-400° to 400°
Steel
4

9/32

"
00000000
000000
1

1/2

"
0.0015"
3

3/4

"
4

3/4

"
2

7/8

"
1

3/4

"

3/4

"
1,000 lbs. @ 100 fpm
14,000
-400° to 400°
Steel
4

9/32

"
00000000
000000
1

1/2

"
0.0015"
9"
4

3/4

"
2

7/8

"
1

3/4

"

3/4

"
2,500 lbs. @ 100 fpm
28,000
-400° to 400°
Steel
8

9/32

"
00000000
000000
2"
0.0015"
4

3/4

"
6"
3

5/8

"
2

1/8

"
1"
1,500 lbs. @ 100 fpm
25,000
-400° to 400°
Steel
4

13/32

"
00000000
000000

PTFE-Lined

6061 Aluminum Bearings with 6063 Aluminum Housing

12mm
-0.038mm to -0.013mm
39mm
40mm
27.6mm
17mm
8.5mm
150 lbs. @ 100 fpm
2,200
-400° to 375°
Aluminum, Stainless Steel, Steel
4
5mm
00000000
00000
16mm
-0.038mm to -0.013mm
45mm
45mm
33mm
20mm
10mm
200 lbs. @ 150 fpm
3,300
-400° to 375°
Aluminum, Stainless Steel, Steel
4
5mm
00000000
00000
20mm
-0.038mm to -0.013mm
50mm
48mm
39mm
23mm
10mm
300 lbs. @ 100 fpm
5,200
-400° to 375°
Aluminum, Stainless Steel, Steel
4
6mm
00000000
00000
25mm
-0.038mm to -0.013mm
65mm
60mm
47mm
27mm
11.5mm
500 lbs. @ 100 fpm
8,400
-400° to 375°
Aluminum, Stainless Steel, Steel
4
6mm
00000000
00000
30mm
-0.038mm to -0.013mm
70mm
70mm
56mm
33mm
14mm
900 lbs. @ 100 fpm
11,850
-400° to 375°
Aluminum, Stainless Steel, Steel
4
8mm
00000000
00000
40mm
-0.038mm to -0.013mm
90mm
90mm
72mm
42mm
19mm
1,000 lbs. @ 100 fpm
18,600
-400° to 375°
Aluminum, Stainless Steel, Steel
4
10mm
00000000
000000

Fixed Alignment

PTFE-Lined

6061 Aluminum Bearings with 6061 Aluminum Housing

1/4

"
0.001"
1

3/16

"
1

5/8

"

3/4

"

7/16

"

1/16

"
50 lbs. @ 100 fpm
935
-400° to 375°
Aluminum, Stainless Steel, Steel
4

1/8

"
0000000
00000

3/8

"
0.001"
1

5/16

"
1

3/4

"

7/8

"

1/2

"

1/8

"
90 lbs. @ 100 fpm
1,600
-400° to 375°
Aluminum, Stainless Steel, Steel
4

1/8

"
0000000
00000

1/2

"
0.001"
1

11/16

"
2"
1

1/8

"

11/16

"

5/16

"
150 lbs. @ 100 fpm
3,100
-400° to 375°
Aluminum, Stainless Steel, Steel
4

1/8

"
0000000
00000

5/8

"
0.001"
1

15/16

"
2

1/2

"
1

7/16

"

7/8

"

3/8

"
200 lbs. @ 100 fpm
4,600
-400° to 375°
Aluminum, Stainless Steel, Steel
4

3/16

"
0000000
00000

3/4

"
0.001"
2

1/16

"
2

3/4

"
1

9/16

"

15/16

"

7/16

"
300 lbs. @ 100 fpm
6,100
-400° to 375°
Aluminum, Stainless Steel, Steel
4

3/16

"
0000000
00000
1"
0.001"
2

13/16

"
3

1/4

"
2"
1

3/16

"

9/16

"
500 lbs. @ 100 fpm
11,000
-400° to 375°
Aluminum, Stainless Steel, Steel
4

3/16

"
0000000
00000
1

1/4

"
0.001"
3

5/8

"
4"
2

1/2

"
1

1/2

"

5/8

"
900 lbs. @ 100 fpm
16,000
-400° to 375°
Aluminum, Stainless Steel, Steel
4

3/16

"
0000000
000000
1

1/2

"
0.001"
4"
4

3/4

"
2

7/8

"
1

3/4

"

3/4

"
1,000 lbs. @ 100 fpm
22,000
-400° to 375°
Aluminum, Stainless Steel, Steel
4

1/4

"
0000000
000000
2"
0.001"
5"
6"
3

5/8

"
2

1/8

"
1"
2,000 lbs. @ 100 fpm
40,000
-400° to 375°
Aluminum, Stainless Steel, Steel
4

3/8

"
0000000
000000