About Ball and Roller Bearings
Insert Bearings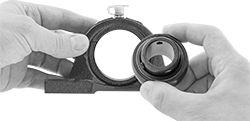 Swap out worn inserts instead of replacing the entire mounted unit. Use the manufacturer model number on your existing mounted bearing to choose a compatible insert. Inserts must be used with the manufacturer model number specified.
Bearings with eccentric lock have a collar that grips in one direction and releases in the other. They are easier to install onto shafts than bearings with a set screw grip and require less adjustment over time. Use with shafts that spin in one direction only.
For technical drawings and 3-D models, click on a part number.
For Shaft


Dia.

For Mounted Bearing Model

No.

Each

SKF Steel Insert Bearings

Shaft Mount

Type:

Set Screw

1/2

"
F2B 008-RM, FYT 1/2 RM
0000000
000000

1/2

"
F4B 008-TF, FY 1/2 TF
0000000
00000

3/4

"
F2B 012-RM, F4B 012-RM, FYT 3/4 RM
0000000
00000
1"
F2B 100-RM, F4B 100-RM, FYT 1. RM
0000000
00000
1

1/8

"
F2B 102 TF, F4B 102-TF, FY 1.1/8 TF, FYT 1.1/8 TF
0000000
00000
1

3/16

"
F2B 103-RM, F4B 103-RM, FYT 1.3/16 RM
0000000
00000
1

1/4

"
F2B 104-RM, F4B 104-RM, FYT 1.1/4 RM
0000000
00000
1

1/4

"
F2B 104S-RM, F4B 104S-RM
0000000
00000
1

3/8

"
F4B 106-TF, FY 1.3/8 TF, FYT 1.3/8 TF
0000000
00000
1

7/16

"
F2B 107-RM, F4B 107-RM, FYT 1.7/16 RM
0000000
00000
1

1/2

"
F2B 108-TF, F4B 108-TF, FYT 1.1/2 RM
0000000
00000
1

3/4

"
F2B 112-RM, F4B 112-RM, FYT 1.3/4 RM
0000000
00000
1

15/16

"
F2B 115-TF, F4B 115-TF, FYT 1.15/16 RM
0000000
00000
2"
F2B 200-RM, F4B 200-RM, FYT 2. RM
0000000
00000
2

1/4

"
F4B 204-TF, FY 2.1/4 TF, FYT 2.1/4 TF
0000000
000000
2

1/2

"
F4B 208-TF, FY 2.1/2 TF, FYT 2.1/2 TF
0000000
000000

Shaft Mount

Type:

Eccentric Lock

5/8

"
P2BL 010-FM, SYH 5/8 FM
00000000
00000

3/4

"
P2BL 012-FM, SYH 3/4 FM
00000000
00000

7/8

"
P2BL 014-FM, SYH 7/8 FM
00000000
00000
1"
P2BL 100-FM, SYH 1. FM
00000000
00000
1

1/4

"
P2BL 104-FM, SYH 1.1/4 FM
00000000
00000
1

1/4

"
SYH 1.1/4 AFM
00000000
00000
1

3/8

"
P2BL 106-FM, SYH 1.3/8 FM
00000000
00000
1

7/16

"
P2BL 107-FM, SYH 1.7/16 FM
00000000
00000
1

1/2

"
P2BL 108-WF, SYH 1.1/2 WF
00000000
00000
1

15/16

"
P2BL 115-WF, SYH 1.15/16 WF
00000000
00000
2"
P2BL 200-FM, SYH 2. FM
00000000
00000
2

3/16

"
SYH 2.3/16 FM
00000000
00000

Sealmaster Steel Insert Bearings

Shaft Mount

Type:

Set Screw

1/2

"
FB-8, NP-8, NPL-8, SC-8, SF-8, SFT-8, ST-8, TB-8
00000000
00000

1/2

"
FB-8-HT, NP-8-HT, NPL-8-HT, SC-8-HT, SF-8-HT, SFT-8-HT, ST-8-HT, TB-8-HT
00000000
000000

5/8

"
FB-10, NP-10, NPL-10, SC-10, SF-10, SFT-10, ST-10, TB-10
00000000
00000

5/8

"
FB-10-HT, NP-10-HT, NPL-10-HT, SC-10-HT, SF-10-HT, SFT-10-HT, ST-10-HT, TB-10-HT
00000000
000000

3/4

"
FB-12, NP-12, NPL-12, SC-12, SF-12, SFT-12, ST-12, TB-12
00000000
00000

3/4

"
FB-12-HT, NP-12-HT, NPL-12-HT, SC-12-HT, SF-12-HT, SFT-12-HT, ST-12-HT, TB-12-HT
00000000
000000

7/8

"
FB-14, NP-14, NPG-14-6, NPG-14-9, NPL-14, SC-14, SF-14, SFT-14, SP-14, ST-14, STH-14-6, STH-14-9, TB-14
00000000
000000

15/16

"
FB-15, NP-15, NPG-15-6, NPG-15-9, NPL-15, SC-15, SF-15, SFT-15, SP-15, ST-15, STH-15-6, STH-15-9, TB-15
00000000
000000
1"
FB-16, NP-16, NPG-16-6, NPG-16-9, NPL-16, SC-16, SF-16, SFT-16, SP-16, ST-16, STH-16-6, STH-16-9, TB-16
00000000
00000
1"
FB-16-HT, NP-16-HT, NPG-16-6-HT, NPG-16-9-HT, NPL-16-HT, SC-16-HT, SF-16-HT, SFT-16-HT, SP-16-HT, ST-16-HT, STH-16-6-HT, STH-16-9-HT, TB-16-HT
00000000
000000
1

1/8

"
FB-18, NP-18, NPG-18-6, NPG-18-9, NPL-18, SC-18, SCHB-18, SEHB-18, SF-18, SFC-18, SFT-18, SP-18, ST-18, STH-18-6, STH-18-9, TB-18
00000000
000000
1

3/16

"
FB-19, NP-19, NPG-19-6, NPG-19-9, NPL-19, SC-19, SF-19, SFC-19, SFT-19, SP-19, ST-19, STH-19-6, STH-19-9, TB-19
00000000
000000
1

1/4

"
FB-20, NP-20, NPG-20-12, NPG-20-9, NPL-20, SC-20, SCHB-20, SEHB-20, SF-20, SFC-20, SFT-20, SP-20, ST-20, STH-20-12, STH-20-9, TB-20
00000000
000000
1

1/4

"
FB-20-HT, NP-20-HT, NPG-20-12-HT, NPG-20-9-HT, NPL-20-HT, SC-20-HT, SCHB-20-HT, SEHB-20-HT, SF-20-HT, SFC-20-HT, SFT-20-HT, SP-20-HT, ST-20-HT, STH-20-12-HT, STH-20-9-HT, TB-20-HT
00000000
000000
1

1/4

"
FB-20R, NP-20R, NPL-20R, SC-20R, SF-20R, SFC-20R, SFT-20R, SP-20R, ST-20R, TB-20R
00000000
000000
1

3/8

"
FB-22, NP-22, NPG-22-12, NPG-22-9, NPL-22, SC-22, SCHB-22, SEHB-22, SF-22, SFC-22, SFT-22, SP-22, ST-22, STH-22-12, STH-22-9, TB-22
00000000
000000
1

7/16

"
FB-23, NP-23, NPG-23-12, NPG-23-9, NPL-23, SC-23, SF-23, SFC-23, SFT-24, SP-23, ST-23, STH-23-12, STH-23-9, TB-23
00000000
000000
1

1/2

"
NP-24, NPG-24-12, NPG-24-18, NPL-24, SC-24, SCHB-24, SEHB-24, SF-24, SFC-24, SFT-24, SP-24, ST-24, STH-24-12, STH-24-18, TB-24
00000000
000000
1

1/2

"
NP-24-HT, NPG-24-12-HT, NPG-24-18-HT, NPL-24-HT, SC-24-HT, SCHB-24-HT, SEHB-24-HT, SF-24-HT, SFC-24-HT, SFT-24-HT, SP-24-HT, ST-24-HT, STH-24-12-HT, STH-24-18-HT, TB-24-HT
00000000
000000
1

11/16

"
NP-27, NPG-27-12, NPG-27-18, NPL-27, SC-27, SF-27, SFC-27, SFT-27, SP-27, ST-27, STH-27-12, STH-27-18, TB-27
00000000
000000
1

3/4

"
NP-28, NPL-28, SC-28, SFC-28, SFT-28, SP-28, ST-28, TB-28
00000000
000000
1

7/8

"
FB-30, NP-30, NPL-30, SC-30, SCHB-30, SEHB-30, SFC-30, SFT-30, SP-30, ST-30, TB-30
00000000
000000
1

15/16

"
FB-31, NP-31, NPG-31-12, NPG-31-18, NPL-32, SC-31, SCHB-31, SEHB-31, SF-31, SFC-31, SFT-31, SP-31, ST-31, STH-31-12, STH-31-18, TB-31
00000000
000000
2"
NP-32, NPG-32-12, NPG-32-18, NPL-32, SC-32, SF-32, SFC-32, SFT-32, SP-32, ST-32, STH-32-12, STH-32-18
00000000
000000
2"
NP-32-HT, NPG-32-12-HT, NPG-32-18-HT, NPL-32-HT, SC-32-HT, SF-32-HT, SFC-32-HT, SFT-32-HT, SP-32-HT, ST-32-HT, STH-32-12-HT, STH-32-18-HT
00000000
000000
2

3/16

"
NP-35, NPG-35-12, NPG-35-18, NPL-35, SC-35, SF-35, SFC-35, SFT-35, SP-35, ST-35, STH-35-12, STH-35-18
00000000
000000
2

1/4

"
NP-36, NPL-36, SC-36, SCHB-36, SEHB-36, SFC-36, SP-36, ST-36
00000000
000000
2

7/16

"
NP-39, NPG-39-12, NPG-39-18, NPL-39, SC-39, SCHB-39, SEHB-39, SF-39, SFC-39, SP-39, ST-39, STH-39-12, STH-39-18
00000000
000000
20mm
FB-204, NP-204, NPL-204, SC-204, SF-204, SFT-204, ST-204, TB-204
00000000
00000
25mm
FB-205, NP-205, NPG-205-6, NPG-205-9, NPL-205, SC-205, SF-205, SFT-205, SP-205, ST-205, STH-205-6, STH-205-9, TB-205
00000000
000000
30mm
FB-206, NP-206, NPG-206-6, NPG-206-9, NPL-206, SC-206, SCHB-206, SEHB-206, SF-206, SFC-206, SFT-206, SP-206, ST-206, STH-206-6, STH-206-9, TB-206
00000000
000000
35mm
FB-207, NP-207, NPG-207-12, NPG-207-9, NPL-207, SC-207, SCHB-207, SEHB-207, SF-207, SFC-207, SFT-207, SP-207, ST-207, STH-207-12, STH-207-9, TB-207
00000000
000000
40mm
NP-208, NPG-208-12, NPG-28-18, NPL-208, SC-208, SCHB-208, SEHB-208, SF-208, SFC-208, SFT-208, SP-208, ST-208, STH-208-12, STH-208-18, TB-208
00000000
000000
45mm
NP-209, NPG-209-12, NPG-209-18, NPL-209, SC-209, SF-209, SFC-209, SFT-209, SP-209, ST-209, STH-209-12, STH-209-18, TB-209
00000000
000000
50mm
FB-210, NP-210, NPG-210-12, NPG-210-18, NPL-210, SC-210, SCHB-210, SEHB-210, SF-210, SFC-210, SFT-210, SP-210, ST-210, STH-210-12, STH-210-18, TB-210
00000000
000000
55mm
NP-211, NPL-211, SC-211, SFC-211, SFT-211, SP-211, ST-211
00000000
000000
60mm
NP-212, NPL-212, SC-212, SCHB-212, SEHB-212, SFC-212, SP-212, ST-212
00000000
000000
70mm
SC-214, SFC-214, SP-214, ST-214
00000000
000000
75mm
NP-215, SC-215, SCHB-215, SEHB-215, SFC-215, SP-215, ST-215
00000000
000000