About Ball and Roller Bearings
Mounted Ball Bearings
Bearings are self-aligning to compensate for shaft misalignment. Seals block out dust and contaminants.
Bearings with nickel-plated cast iron housing are more corrosion resistant and durable than bearings with a cast iron housing.
Bearings with a set screw secure to shafts without using a collar. They let shafts rotate in both directions, so they're good for applications where you need to reverse. However, the set screw will leave some marring on the shaft.
Bearings with eccentric lock have a collar that you twist in one direction to grip and the other to release. Compared to bearings with a set screw, they're easier to install, require less adjustment over time, and are better for high-speed applications. But, they only work on shafts that spin in one direction.
Bearing with concentric lock use adapter sleeves (sold separately) to lock onto shafts in a way that enables high running speeds with little vibration. They work for applications that require reversing because they allow shafts to rotate in both directions.
For technical drawings and 3-D models, click on a part number.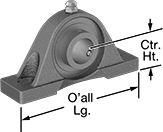 With Set Screw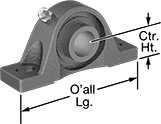 With Eccentric Lock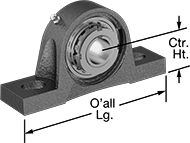 With Concentric Lock
For
Shaft


Dia.

Center


Ht.

Ht.

Lg.

Wd.

Hole


Lg.

Hole


Wd.

Hole


Ctr.-to-Ctr.

Dynamic
Static

Max.




Speed,


rpm

Temp.




Range,




°F

Alignment
Style
Lubrication
Each

Sealed Steel Bearings with Cast Iron Housing

Shaft Mount

Type:

Set Screw

1/2

"
1

3/16

"
2

13/16

"
5"
1

1/2

"

3/4

"

3/8

"
3

3/4

"
2,600
1,400
7,300
-20° to 220°
Self Aligning
Lubricated
0000000
000000

5/8

"
1

3/16

"
2

13/16

"
5"
1

1/2

"

3/4

"

3/8

"
3

3/4

"
2,600
1,400
7,300
-20° to 220°
Self Aligning
Lubricated
0000000
00000

3/4

"
1

5/16

"
2

15/16

"
5"
1

1/2

"

3/4

"

3/8

"
3

3/4

"
2,600
1,400
7,300
-20° to 220°
Self Aligning
Lubricated
0000000
00000

7/8

"
1

7/16

"
3

3/16

"
5

1/2

"
1

1/2

"

5/8

"

3/8

"
4

1/8

"
2,800
1,650
6,300
-20° to 220°
Self Aligning
Lubricated
0000000
000000

15/16

"
1

7/16

"
3

3/16

"
5

1/2

"
1

1/2

"

5/8

"

3/8

"
4

1/8

"
2,800
1,650
6,300
-20° to 220°
Self Aligning
Lubricated
0000000
000000
1"
1

7/16

"
3

3/16

"
5

1/2

"
1

1/2

"

5/8

"

3/8

"
4

1/8

"
2,800
1,650
6,300
-20° to 220°
Self Aligning
Lubricated
0000000
000000
1

1/8

"
1

11/16

"
3

3/4

"
6

1/2

"
1

7/8

"

13/16

"

1/2

"
4

3/4

"
4,350
2,550
5,400
-20° to 220°
Self Aligning
Lubricated
0000000
000000
1

3/16

"
1

11/16

"
3

3/4

"
6

1/2

"
1

7/8

"

13/16

"

1/2

"
4

3/4

"
4,350
2,550
5,400
-20° to 220°
Self Aligning
Lubricated
0000000
000000
1

1/4

"
1

11/16

"
3

3/4

"
6

1/2

"
1

7/8

"

13/16

"

1/2

"
4

3/4

"
4,350
3,450
5,400
-20° to 220°
Self Aligning
Lubricated
0000000
000000
1

1/4

"
1

7/8

"
4

1/8

"
6

9/16

"
1

7/8

"

13/16

"

1/2

"
5"
5,750
2,550
5,400
-20° to 220°
Self Aligning
Lubricated
0000000
000000
1

3/8

"
1

7/8

"
4

1/8

"
6

9/16

"
1

7/8

"

13/16

"

1/2

"
5"
5,750
3,450
4,600
-20° to 220°
Self Aligning
Lubricated
0000000
000000
1

7/16

"
1

7/8

"
4

1/8

"
6

9/16

"
1

15/16

"

13/16

"

1/2

"
5"
5,750
3,450
4,600
-20° to 220°
Self Aligning
Lubricated
0000000
000000
1

1/2

"
1

15/16

"
4

5/16

"
7

1/4

"
2

1/8

"
1"

1/2

"
5

3/8

"
7,300
4,450
4,100
-20° to 220°
Self Aligning
Lubricated
0000000
000000
1

11/16

"
2

1/8

"
4

5/8

"
7

1/2

"
2

1/8

"

13/16

"

1/2

"
5

3/4

"
7,900
5,100
3,800
-20° to 220°
Self Aligning
Lubricated
0000000
000000
1

3/4

"
2

1/8

"
4

5/8

"
7

1/2

"
2

1/4

"

13/16

"

1/2

"
5

3/4

"
7,900
5,100
3,800
-20° to 220°
Self Aligning
Lubricated
0000000
000000
1

7/8

"
2

1/4

"
4

15/16

"
8

1/8

"
2

15/32

"

7/8

"

5/8

"
6

1/4

"
7,850
5,200
3,500
-20° to 220°
Self Aligning
Lubricated
0000000
000000
1

15/16

"
2

1/4

"
4

15/16

"
8

1/8

"
2

3/8

"

7/8

"

5/8

"
6

1/4

"
7,850
5,200
3,500
-20° to 220°
Self Aligning
Lubricated
0000000
000000
2"
2

1/2

"
5

3/8

"
8

5/8

"
2

3/8

"

7/8

"

5/8

"
6

3/4

"
9,750
5,200
3,200
-20° to 220°
Self Aligning
Lubricated
0000000
000000
2

3/16

"
2

1/2

"
5

3/8

"
8

5/8

"
2

3/8

"

7/8

"

5/8

"
6

3/4

"
9,750
6,600
3,200
-20° to 220°
Self Aligning
Lubricated
0000000
000000
2

1/4

"
2

3/4

"
5

15/16

"
9

1/2

"
2

15/16

"
1"

5/8

"
7

1/4

"
11,700
8,150
3,000
-20° to 220°
Self Aligning
Lubricated
0000000
000000
2

7/16

"
2

3/4

"
5

15/16

"
9

1/2

"
2

3/4

"
1"

5/8

"
7

1/4

"
11,700
8,150
3,000
-20° to 220°
Self Aligning
Lubricated
0000000
000000
20mm
33.3mm
74.6mm
127mm
38mm
19.1mm
9.5mm
95mm
2,600
1,400
7,300
-20° to 220°
Self Aligning
Lubricated
0000000
000000
25mm
36.5mm
81mm
140mm
39.7mm
15.9mm
9.5mm
105mm
2,800
1,650
6,300
-20° to 220°
Self Aligning
Lubricated
0000000
000000
30mm
42.9mm
95.3mm
165mm
48mm
20.6mm
12.7mm
121mm
4,350
2,550
5,400
-20° to 220°
Self Aligning
Lubricated
0000000
000000
35mm
47.6mm
104.8mm
167mm
49.2mm
20.6mm
12.7mm
127mm
5,750
3,450
4,600
-20° to 220°
Self Aligning
Lubricated
0000000
000000
40mm
49.2mm
109.5mm
184mm
57.2mm
25.4mm
12.7mm
137mm
7,300
4,450
4,100
-20° to 220°
Self Aligning
Lubricated
0000000
000000
45mm
54mm
117.5mm
191mm
57.2mm
20.6mm
12.7mm
146mm
7,900
5,100
3,800
-20° to 220°
Self Aligning
Lubricated
0000000
000000
50mm
57.2mm
125.4mm
206mm
62.3mm
22.2mm
15.9mm
159mm
7,850
5,200
3,500
-20° to 220°
Self Aligning
Lubricated
0000000
000000
60mm
69.9mm
150.8mm
241.3mm
74.7mm
25.4mm
15.9mm
184.2mm
11,700
8,150
3,000
-20° to 220°
Self Aligning
Lubricated
0000000
000000
75mm
88.9mm
187.3mm
330.2mm
89mm
50.8mm
22.2mm
228.6mm
14,800
11,200
2,400
-20° to 220°
Self Aligning
Lubricated
000000
000000

Shaft Mount

Type:

Eccentric Lock

5/8

"
1

1/16

"
2

3/32

"
5

15/32

"
1

1/2

"

7/8

"

7/16

"
3

5/8

"
2,150
1,050
9,500
-20° to 210°
Self Aligning
Lubricated
0000000
00000

3/4

"
1

1/4

"
2

15/32

"
5"
1

19/32

"

3/4

"

1/2

"
3

3/4

"
2,850
1,450
8,500
-20° to 210°
Self Aligning
Lubricated
0000000
00000

7/8

"
1

5/16

"
2

21/32

"
5

1/2

"
1

43/64

"

3/4

"

1/2

"
4

1/8

"
3,150
1,750
7,000
-20° to 210°
Self Aligning
Lubricated
0000000
00000
1"
1

5/16

"
2

21/32

"
5

1/2

"
1

43/64

"

3/4

"

1/2

"
4

1/8

"
3,150
1,750
7,000
-20° to 210°
Self Aligning
Lubricated
0000000
00000
1

1/8

"
1

9/16

"
3

5/32

"
6

1/2

"
1

59/64

"

13/16

"

21/32

"
4

23/32

"
4,350
2,500
6,300
-20° to 210°
Self Aligning
Lubricated
0000000
00000
1

3/16

"
1

9/16

"
3

5/32

"
6

1/2

"
2

1/16

"

13/16

"

21/32

"
4

23/32

"
4,350
2,500
6,300
-20° to 210°
Self Aligning
Lubricated
0000000
00000
1

1/4

"
1

13/16

"
3

5/8

"
6

9/16

"
2

1/16

"

13/16

"

21/32

"
5"
5,700
3,400
5,300
-20° to 210°
Self Aligning
Lubricated
0000000
00000
1

3/8

"
1

13/16

"
3

5/8

"
6

9/16

"
2

1/16

"

13/16

"

21/32

"
5"
5,700
3,400
5,300
-20° to 210°
Self Aligning
Lubricated
0000000
00000
1

7/16

"
1

13/16

"
3

5/8

"
6

9/16

"
2

1/16

"

13/16

"

21/32

"
5"
5,700
3,400
5,300
-20° to 210°
Self Aligning
Lubricated
0000000
00000
1

1/2

"
1

15/16

"
4"
7

1/4

"
2

1/4

"

13/16

"

21/32

"
5

13/32

"
6,900
4,250
4,800
-20° to 210°
Self Aligning
Lubricated
0000000
000000
1

3/4

"
2

1/16

"
4

3/16

"
7

15/32

"
2

19/64

"

13/16

"

21/32

"
5

25/32

"
7,450
4,850
4,300
-20° to 210°
Self Aligning
Lubricated
0000000
000000
1

15/16

"
2

3/16

"
4

1/2

"
8

1/8

"
2

3/8

"

7/8

"

25/32

"
6

1/4

"
7,850
5,200
4,000
-20° to 210°
Self Aligning
Lubricated
0000000
000000
2"
2

7/16

"
4

29/32

"
8

5/8

"
2

37/64

"
1

1/16

"

25/32

"
6

3/4

"
9,800
6,500
3,600
-20° to 210°
Self Aligning
Lubricated
0000000
000000
20mm
33.3mm
65mm
127mm
39.5mm
20.5mm
11.5mm
97mm
2,850
1,450
8,500
-20° to 210°
Self Aligning
Lubricated
00000000
000000
20mm
33.3mm
65mm
127mm
42.6mm
20.5mm
11.5mm
97mm
2,850
1,450
8,500
-20° to 210°
Self Aligning
Lubricated
00000000
00000
25mm
36.5mm
70.5mm
130mm
41.5mm
19.5mm
11.5mm
102mm
3,100
1,750
7,000
-20° to 210°
Self Aligning
Lubricated
00000000
000000
25mm
36.5mm
70.5mm
130mm
44.9mm
19.5mm
11.5mm
102mm
3,100
1,750
7,000
-20° to 210°
Self Aligning
Lubricated
00000000
000000
30mm
42.9mm
82.5mm
152mm
46.7mm
23.5mm
14mm
117.5mm
4,350
2,500
6,300
-20° to 210°
Self Aligning
Lubricated
00000000
000000
30mm
42.9mm
82.5mm
152mm
50.1mm
23.5mm
14mm
117.5mm
4,350
2,500
6,300
-20° to 210°
Self Aligning
Lubricated
00000000
000000
40mm
49.2mm
99mm
175mm
58.9mm
24.5mm
14mm
135.5mm
6,900
4,250
4,800
-20° to 210°
Self Aligning
Lubricated
00000000
000000
45mm
54mm
107.5mm
187mm
56.7mm
22.5mm
14mm
143.5mm
7,450
4,850
4,300
-20° to 210°
Self Aligning
Lubricated
00000000
000000
50mm
57.2mm
114.5mm
203mm
65.1mm
26mm
18mm
157mm
7,850
5,200
4,000
-20° to 210°
Self Aligning
Lubricated
00000000
000000

Shaft Mount

Type:

Concentric Lock

25mm
42.9mm
82.5mm
165mm
43mm
24mm
17mm
118mm
4,350
2,500
6,300
-20° to 210°
Self Aligning
Lubricated
00000000
00000
30mm
47.6mm
93mm
167mm
47.3mm
24mm
17mm
129mm
5,700
3,400
5,300
-20° to 210°
Self Aligning
Lubricated
00000000
000000
35mm
49.2mm
99mm
184mm
51.5mm
25.5mm
17mm
136.5mm
6,900
4,250
4,800
-20° to 210°
Self Aligning
Lubricated
00000000
000000
40mm
54mm
107.5mm
190mm
54.5mm
23.5mm
17mm
143.5mm
700
4,850
4,300
-20° to 210°
Self Aligning
Lubricated
00000000
000000
55mm
69.8mm
138mm
241mm
66.8mm
29.5mm
20mm
188.5mm
11,800
8,050
3,400
-20° to 210°
Self Aligning
Lubricated
00000000
000000
60mm
76.2mm
151mm
265mm
70.8mm
35mm
25mm
203mm
12,850
8,950
3,000
-20° to 210°
Self Aligning
Lubricated
00000000
000000

Sealed Steel Bearings with

Nickel-Plated

Cast Iron Housing

Shaft Mount

Type:

Set Screw

5/8

"
1

3/16

"
2

3/4

"
5"
1

1/2

"

23/32

"

1/2

"
3

3/4

"
2,870
1,490
5,800
0° to 210°
Self Aligning
Lubricated
0000000
00000

3/4

"
1

5/16

"
2

29/32

"
5"
1

1/2

"

23/32

"

1/2

"
3

3/4

"
2,870
1,490
5,800
0° to 210°
Self Aligning
Lubricated
0000000
00000
1"
1

7/16

"
3

5/32

"
5

1/2

"
1

17/32

"

23/32

"

1/2

"
4

1/8

"
3,140
1,760
5,100
0° to 210°
Self Aligning
Lubricated
0000000
00000
1

1/4

"
1

7/8

"
4

1/32

"
6

9/16

"
1

61/64

"

13/16

"

21/32

"
5"
5,770
3,460
3,700
0° to 210°
Self Aligning
Lubricated
0000000
00000
1

1/2

"
1

15/16

"
4

7/32

"
7

1/4

"
2

1/4

"

13/16

"

21/32

"
5

13/32

"
6,540
4,000
3,300
0° to 210°
Self Aligning
Lubricated
0000000
00000
Adapter Sleeves for Bearings with Concentric Lock

Adapter Sleeve
For Shaft


Diameter,

mm

ID,


mm

Width,


mm
Includes
Each

1137 Carbon Steel Sleeves

25
25
38
Lock Nut, Lock Washer
00000000
000000
30
30
43
Lock Nut, Lock Washer
00000000
00000
35
35
46
Lock Nut, Lock Washer
00000000
00000
40
40
50
Lock Nut, Lock Washer
00000000
00000
55
55
62
Lock Nut, Lock Washer
00000000
000000
60
60
65
Lock Nut, Lock Washer
00000000
00000