About Ball and Roller Bearings
Mounted Ball Bearings with
Two-Bolt

Flange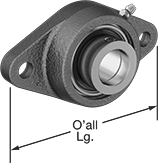 Eccentric Lock Mount
Bearings are self-aligning to compensate for shaft misalignment. Seals block out dust and contaminants.
Bearings with a set-screw shaft mount secure to shafts with no need for an additional collar. They can be used for bi-directional shaft rotation when applications require reversing action. The set screw may cause some marring on the shaft.
Bearings with an eccentric-lock shaft mount are better than bearings with a set-screw shaft mount for high-speed applications, but only rotate in a single direction.
Bearings with nickel-plated cast iron housing are more corrosion resistant and durable than bearings with a cast iron housing.
For technical drawings and 3-D models, click on a part number.
For
Shaft


Dia.

Ht.

Lg.

Wd.

Flange


Thick.

Hole


Dia.

Hole


Ctr.-to-Ctr.

Dynamic
Static

Max.




Speed,


rpm

Temp.




Range,




°F

Alignment
Style
Lubrication
Each

Sealed Steel Bearings with Cast Iron Housing

Shaft Mount

Type:

Set Screw

1/2

"
2

3/8

"
3

7/8

"
1

19/64

"

7/16

"

7/16

"
3"
2,150
1,050
9,500
-20° to 210°
Self Aligning
Lubricated
0000000
000000

5/8

"
2

3/8

"
3

7/8

"
1

19/64

"

7/16

"

7/16

"
3"
2,100
1,050
9,500
-20° to 210°
Self Aligning
Lubricated
0000000
00000

3/4

"
2

3/8

"
4

7/16

"
1

15/32

"

7/16

"

7/16

"
3

17/32

"
2,850
1,450
8,500
-20° to 210°
Self Aligning
Lubricated
0000000
00000

7/8

"
2

3/4

"
4

7/8

"
1

33/64

"

17/32

"

1/2

"
3

7/8

"
3,100
1,750
7,000
-20° to 210°
Self Aligning
Lubricated
0000000
00000

15/16

"
2

3/4

"
4

7/8

"
1

17/32

"

17/32

"

1/2

"
3

7/8

"
3,100
1,750
7,000
-20° to 210°
Self Aligning
Lubricated
00000000
00000
1"
2

3/4

"
4

7/8

"
1

33/64

"

17/32

"

1/2

"
3

7/8

"
3,100
1,750
7,000
-20° to 210°
Self Aligning
Lubricated
0000000
00000
1

1/8

"
3

1/8

"
5

9/16

"
1

45/64

"

17/32

"

1/2

"
4

19/32

"
4,350
2,500
6,300
-20° to 210°
Self Aligning
Lubricated
0000000
00000
1

3/16

"
3

1/8

"
5

9/16

"
1

21/32

"

17/32

"

1/2

"
4

19/32

"
4,350
2,500
6,300
-20° to 210°
Self Aligning
Lubricated
0000000
00000
1

1/4

"
3

1/8

"
5

9/16

"
1

21/32

"

17/32

"

1/2

"
4

19/32

"
4,350
2,500
6,300
-20° to 210°
Self Aligning
Lubricated
0000000
00000
1

1/4

"
3

5/8

"
6

1/8

"
1

53/64

"

9/16

"

9/16

"
5

1/8

"
5,700
3,400
5,300
-20° to 210°
Self Aligning
Lubricated
0000000
00000
1

3/8

"
3

5/8

"
6

1/8

"
1

29/32

"

9/16

"

9/16

"
5

7/64

"
5,700
3,400
5,300
-20° to 210°
Self Aligning
Lubricated
00000000
000000
1

7/16

"
3

5/8

"
6

1/8

"
1

53/64

"

9/16

"

9/16

"
5

1/8

"
5,700
3,400
5,300
-20° to 210°
Self Aligning
Lubricated
0000000
00000
1

1/2

"
4

1/8

"
6

3/4

"
2

11/64

"

9/16

"

9/16

"
5

21/32

"
6,900
4,250
4,800
-20° to 210°
Self Aligning
Lubricated
0000000
000000
1

11/16

"
4

3/8

"
7

1/16

"
2

3/16

"

9/16

"

9/16

"
5

53/64

"
7,450
4,850
4,300
-20° to 210°
Self Aligning
Lubricated
00000000
000000
1

3/4

"
4

3/8

"
7

1/16

"
2"

9/16

"

9/16

"
5

27/32

"
7,450
4,850
4,300
-20° to 210°
Self Aligning
Lubricated
0000000
000000
1

15/16

"
4

9/16

"
7

7/16

"
2

15/32

"

9/16

"

9/16

"
6

3/16

"
7,850
5,200
4,000
-20° to 210°
Self Aligning
Lubricated
0000000
000000
2"
5

1/4

"
8

1/2

"
2

37/64

"

13/16

"

11/16

"
7

1/4

"
9,800
6,500
3,600
-20° to 210°
Self Aligning
Lubricated
0000000
000000
2

3/16

"
5

1/4

"
8

1/2

"
2

5/8

"

13/16

"

11/16

"
7

1/4

"
9,800
6,500
3,600
-20° to 210°
Self Aligning
Lubricated
00000000
000000
2

1/4

"
5

7/16

"
9

1/4

"
2

29/32

"

13/16

"

11/16

"
7

61/64

"
11,800
8,050
3,400
-20° to 210°
Self Aligning
Lubricated
00000000
000000
2

7/16

"
5

7/16

"
9

1/4

"
2

29/32

"

13/16

"

11/16

"
7

61/64

"
11,800
8,050
3,400
-20° to 210°
Self Aligning
Lubricated
00000000
000000
20mm
60.3mm
111.9mm
32.5mm
11.1mm
10.3mm
89.7mm
2,600
1,400
7,300
-20° to 220°
Self Aligning
Lubricated
000000
000000
25mm
69.9mm
123.8mm
36.5mm
13.5mm
11.9mm
98.8mm
2,800
1,650
6,300
-20° to 220°
Self Aligning
Lubricated
000000
000000
30mm
82.6mm
141.3mm
39.7mm
13.5mm
11.9mm
116.7mm
4,350
2,550
5,400
-20° to 220°
Self Aligning
Lubricated
000000
000000
35mm
95.3mm
155.6mm
44.5mm
14.3mm
13.5mm
130.2mm
5,750
3,450
4,600
-20° to 220°
Self Aligning
Lubricated
000000
000000
40mm
104.8mm
171.5mm
51.2mm
14.3mm
13.5mm
143.7mm
7,300
4,450
4,100
-20° to 220°
Self Aligning
Lubricated
000000
000000
45mm
111.1mm
179.4mm
52mm
14.3mm
15.1mm
148.4mm
7,900
5,100
3,800
-20° to 220°
Self Aligning
Lubricated
000000
000000
50mm
116mm
189mm
60.6mm
15mm
18mm
157mm
7,850
5,200
4,000
-20° to 210°
Self Aligning
Lubricated
00000000
000000

Shaft Mount

Type:

Eccentric Lock

5/8

"
2

3/8

"
3

7/8

"
1

17/32

"

7/16

"

7/16

"
3"
2,100
1,050
9,500
-20° to 210°
Self Aligning
Lubricated
00000000
00000

3/4

"
2

3/8

"
4

7/16

"
1

43/64

"

7/16

"

7/16

"
3

17/32

"
2,850
1,450
8,500
-20° to 210°
Self Aligning
Lubricated
00000000
00000

7/8

"
2

3/4

"
4

7/8

"
1

43/64

"

17/32

"

1/2

"
3

7/8

"
3,100
1,750
7,000
-20° to 210°
Self Aligning
Lubricated
00000000
00000
1"
2

3/4

"
4

7/8

"
1

43/64

"

17/32

"

1/2

"
3

7/8

"
3,100
1,750
7,000
-20° to 210°
Self Aligning
Lubricated
00000000
00000
1

1/8

"
3

1/8

"
5

9/16

"
1

7/8

"

17/32

"

1/2

"
4

19/32

"
4,350
2,500
6,300
-20° to 210°
Self Aligning
Lubricated
00000000
00000
1

3/16

"
3

1/8

"
5

9/16

"
1

7/8

"

17/32

"

1/2

"
4

19/32

"
4,350
2,500
6,300
-20° to 210°
Self Aligning
Lubricated
00000000
00000
1

1/4

"
3

5/8

"
6

1/8

"
2

1/16

"

9/16

"

9/16

"
5

1/8

"
5,700
3,400
5,300
-20° to 210°
Self Aligning
Lubricated
00000000
00000
1

3/8

"
3

5/8

"
6

1/8

"
2

1/16

"

9/16

"

9/16

"
5

7/64

"
5,700
3,400
5,300
-20° to 210°
Self Aligning
Lubricated
00000000
00000
1

7/16

"
3

5/8

"
6

1/8

"
2

1/16

"

9/16

"

9/16

"
5

1/8

"
5,700
3,400
5,300
-20° to 210°
Self Aligning
Lubricated
00000000
00000
1

1/2

"
4

1/8

"
6

3/4

"
2

9/32

"

9/16

"

9/16

"
5

21/32

"
6,900
4,250
4,800
-20° to 210°
Self Aligning
Lubricated
00000000
00000
1

3/4

"
4

3/8

"
7

1/16

"
2

9/32

"

9/16

"

9/16

"
5

27/32

"
7,450
4,850
4,300
-20° to 210°
Self Aligning
Lubricated
00000000
000000
1

15/16

"
4

9/16

"
7

7/16

"
2

15/32

"

9/16

"

9/16

"
6

3/16

"
7,850
5,200
4,000
-20° to 210°
Self Aligning
Lubricated
00000000
000000
2"
5

1/4

"
8

1/2

"
2

23/32

"

13/16

"

11/16

"
7

1/4

"
9,800
6,500
3,600
-20° to 210°
Self Aligning
Lubricated
00000000
000000
17mm
57mm
98.5mm
39.1mm
11mm
11.5mm
76.5mm
2,100
1,050
9,500
-20° to 210°
Self Aligning
Lubricated
00000000
000000
20mm
60.5mm
112mm
42.5mm
11mm
11.5mm
90mm
2,850
1,450
8,500
-20° to 210°
Self Aligning
Lubricated
00000000
000000
25mm
70mm
124mm
42.5mm
12mm
11.5mm
99mm
3,100
1,750
7,000
-20° to 210°
Self Aligning
Lubricated
00000000
000000
30mm
83mm
141.5mm
46.7mm
13mm
11.5mm
116.5mm
4,350
2,500
6,300
-20° to 210°
Self Aligning
Lubricated
00000000
000000
30mm
83mm
141.5mm
50.1mm
13mm
11.5mm
116.5mm
4,350
2,500
6,300
-20° to 210°
Self Aligning
Lubricated
00000000
000000

Sealed Steel Bearings with

Nickel-Plated

Cast Iron Housing

Shaft Mount

Type:

Set Screw

5/8

"
2

3/8

"
3

55/64

"
1

5/16

"

7/16

"

25/64

"
3"
2,870
1,490
5,800
0° to 210°
Self Aligning
Lubricated
0000000
00000

3/4

"
2

3/8

"
4

7/16

"
1

5/16

"

7/16

"

25/64

"
3

17/32

"
2,870
1,490
5,800
0° to 210°
Self Aligning
Lubricated
0000000
00000
1"
2

11/16

"
5

1/8

"
1

13/32

"

1/2

"

15/32

"
3

57/64

"
3,140
1,760
5,100
0° to 210°
Self Aligning
Lubricated
0000000
00000
1

1/4

"
3

5/32

"
5

13/16

"
1

19/32

"

1/2

"

15/32

"
4

19/32

"
4,380
2,540
4,300
0° to 210°
Self Aligning
Lubricated
0000000
00000