Mounted Roller Bearings
Roller bearings have a thinner profile and larger contact area than ball bearings, making them stronger and more space-efficient than ball bearings.
Use needle-roller bearings with hardened and ground shafts.
Bearings with aluminum housing are more corrosion resistant than bearings with a cast iron housing.
Self-aligning bearings compensate for shaft misalignment.
Sealed bearings block out dust and contaminants.
For technical drawings and 3-D models, click on a part number.
Open Needle-Roller Bearings

Open
Needle-Roller
Bearing
For
Shaft


Dia.

Center


Ht.

Ht.

Lg.

Wd.

Hole


Dia.

Hole


Ctr.-to-Ctr.

Dynamic
Static

Max.




Speed,


rpm

Temp.




Range,




°F

Alignment
Style
Lubrication
Each

Steel Bearings with Aluminum

Housing—

Shaft Mount

Type:

Press Fit

1/4

"

9/16

"
1

1/8

"
2

1/4

"

7/16

"

9/32

"
1

3/4

"
570
470
21,000
-20° to 210°
Self Aligning
Lubricated
0000000
000000

5/16

"

9/16

"
1

1/8

"
2

1/4

"

5/8

"

9/32

"
1

3/4

"
650
590
17,400
-20° to 210°
Self Aligning
Lubricated
0000000
00000

3/8

"

9/16

"
1

1/8

"
2

1/4

"

5/8

"

9/32

"
1

3/4

"
650
610
15,000
-20° to 210°
Self Aligning
Lubricated
0000000
00000

1/2

"

3/4

"
1

9/16

"
3

1/4

"

25/32

"

11/32

"
2

1/2

"
1,000
1,200
11,400
-20° to 210°
Self Aligning
Lubricated
0000000
00000

5/8

"

3/4

"
1

9/16

"
3

1/4

"

55/64

"

11/32

"
2

1/2

"
1,800
2,700
9,600
-20° to 210°
Self Aligning
Lubricated
0000000
00000

3/4

"
1

1/4

"
2

9/16

"
5"

29/32

"

9/16

"
4"
2,200
2,800
7,800
-20° to 210°
Self Aligning
Lubricated
0000000
00000
6mm
14.5mm
28.5mm
57mm
11.2mm
7mm
44.5mm
450
370
21,900
-20° to 210°
Self Aligning
Lubricated
0000000
00000
8mm
14.5mm
28.5mm
57mm
16.3mm
7mm
44.5mm
610
580
17,700
-20° to 210°
Self Aligning
Lubricated
0000000
00000
10mm
14.5mm
28.5mm
57mm
16.3mm
7mm
44.5mm
980
1,100
14,580
-20° to 210°
Self Aligning
Lubricated
0000000
00000
12mm
19mm
39.5mm
82.5mm
20mm
8.7mm
63.5mm
1,100
1,350
12,420
-20° to 210°
Self Aligning
Lubricated
0000000
00000
Sealed Tapered-Roller Bearings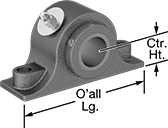 Sealed
Tapered-Roller
Bearing
For
Shaft


Dia.

Center


Ht.

Ht.

Lg.

Wd.

Hole


Lg.

Hole


Wd.

Hole


Ctr.-to-Ctr.

Dynamic
Static
Dynamic
Thrust
Load

Cap.,

lbs.

Max.




Speed,


rpm

Temp.




Range,




°F

Alignment
Style
Lubrication
Each

Steel Bearings with Cast Iron

Housing—

Shaft Mount

Type:

Set Screw

1

1/4

"
1

1/2

"
3"
6"
2

3/4

"

19/32

"

9/16

"
4

25/32

"
3,800
15,700
2,000
4,400
-60° to 250°
Fixed Alignment
Lubricated
0000000
0000000
1

3/8

"
1

7/8

"
3

3/4

"
7

3/8

"
3"

3/4

"

5/8

"
5

3/4

"
6,100
26,000
2,550
3,800
-60° to 250°
Fixed Alignment
Lubricated
0000000
000000
1

1/2

"
2

1/8

"
4

1/4

"
7

7/8

"
3

3/8

"

3/4

"

5/8

"
6

1/4

"
7,850
33,000
2,550
3,300
-60° to 250°
Fixed Alignment
Lubricated
0000000
000000
1

5/8

"
2

1/8

"
4

1/4

"
7

7/8

"
3

3/8

"

3/4

"

5/8

"
6

1/4

"
7,850
33,000
2,550
3,300
-60° to 250°
Fixed Alignment
Lubricated
0000000
000000
1

3/4

"
2

1/4

"
4

1/2

"
8

7/8

"
3

1/2

"

7/8

"

3/4

"
7"
10,300
43,000
2,550
3,000
-60° to 250°
Fixed Alignment
Lubricated
0000000
000000
1

7/8

"
2

1/4

"
4

1/2

"
8

7/8

"
3

1/2

"

7/8

"

3/4

"
7"
10,300
43,000
2,550
3,000
-60° to 250°
Fixed Alignment
Lubricated
0000000
000000
2"
2

1/4

"
4

1/2

"
8

7/8

"
3

1/2

"

7/8

"

3/4

"
7"
10,300
43,000
2,550
3,000
-60° to 250°
Fixed Alignment
Lubricated
0000000
000000
2

1/4

"
2

3/4

"
5

23/32

"
10

1/2

"
4"

7/8

"

3/4

"
8

1/2

"
11,600
54,000
3,450
2,400
-60° to 250°
Fixed Alignment
Lubricated
0000000
000000
2

1/2

"
2

3/4

"
5

23/32

"
10

1/2

"
4"

7/8

"

3/4

"
8

1/2

"
11,600
54,000
3,450
2,400
-60° to 250°
Fixed Alignment
Lubricated
0000000
000000
2

3/4

"
3

1/8

"
6

1/4

"
12"
4

1/2

"
1"

27/32

"
9

1/2

"
12,300
61,000
5,150
2,000
-60° to 250°
Fixed Alignment
Lubricated
0000000
000000
3"
3

1/8

"
6

1/4

"
12"
4

1/2

"
1"

27/32

"
9

1/2

"
12,300
61,000
5,150
2,000
-60° to 250°
Fixed Alignment
Lubricated
0000000
000000
3

1/2

"
3

3/4

"
7

1/2

"
14"
5"
1

3/16

"
1"
11"
19,600
108,000
5,150
1,600
-60° to 250°
Fixed Alignment
Lubricated
0000000
00000000
4"
4

1/4

"
8

1/2

"
15

1/4

"
6

1/4

"
1

1/8

"

7/8

"
12

1/2

"
26,900
154,000
6,900
1,500
-60° to 250°
Fixed Alignment
Lubricated
0000000
00000000
35mm
1

7/8

"
3

3/4

"
7

3/8

"
3"

3/4

"

5/8

"
5

3/4

"
6,100
26,000
2,550
3,800
-60° to 250°
Fixed Alignment
Lubricated
0000000
000000
40mm
2

1/8

"
4

1/4

"
7

7/8

"
3

3/8

"

3/4

"

5/8

"
6

1/4

"
7,850
33,000
2,550
3,300
-60° to 250°
Fixed Alignment
Lubricated
0000000
000000
45mm
2

1/4

"
4

1/2

"
8

7/8

"
3

1/2

"

7/8

"

3/4

"
7"
10,300
43,000
2,550
3,000
-60° to 250°
Fixed Alignment
Lubricated
0000000
000000
50mm
2

1/4

"
4

1/2

"
8

7/8

"
3

1/2

"

7/8

"

3/4

"
7"
10,300
43,000
2,550
3,000
-60° to 250°
Fixed Alignment
Lubricated
0000000
000000
55mm
2

1/2

"
5"
9

5/8

"
3

3/4

"

7/8

"

3/4

"
7

3/4

"
10,900
48,200
3,450
2,700
-60° to 250°
Fixed Alignment
Lubricated
0000000
000000
60mm
2

3/4

"
5

23/32

"
10

1/2

"
4"

7/8

"

3/4

"
8

1/2

"
11,600
54,000
3,450
2,400
-60° to 250°
Fixed Alignment
Lubricated
0000000
000000
65mm
2

3/4

"
5

23/32

"
10

1/2

"
4"

7/8

"

3/4

"
8

1/2

"
11,600
54,000
3,450
2,400
-60° to 250°
Fixed Alignment
Lubricated
0000000
000000
70mm
3

1/8

"
6

1/4

"
12"
4

1/2

"
1"

27/32

"
9

1/2

"
12,300
61,000
5,150
2,000
-60° to 250°
Fixed Alignment
Lubricated
0000000
000000
80mm
3

3/4

"
7

1/2

"
14"
5"
1

3/16

"
1"
11"
19,600
108,000
5,150
1,600
-60° to 250°
Fixed Alignment
Lubricated
0000000
00000000
90mm
3

3/4

"
7

1/2

"
14"
5"
1

3/16

"
1"
11"
19,600
108,000
5,150
1,600
-60° to 250°
Fixed Alignment
Lubricated
0000000
00000000
100mm
4

1/4

"
8

1/2

"
15

1/4

"
6

1/4

"
1

1/8

"

7/8

"
12

1/2

"
26,900
154,000
6,900
1,500
-60° to 250°
Fixed Alignment
Lubricated
0000000
00000000