About Ball and Roller Bearings
Permanently Lubricated Washdown Mounted Ball Bearings with
Four-Bolt

Flange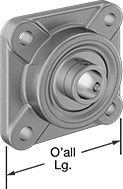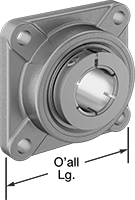 Concentric Lock Shaft Mount
Made to withstand frequent washdowns, these bearings are permanently lubricated, which means you'll never have to add lubricant. Use them in hard-to-reach areas in food, beverage, pharmaceutical, and chemical plants. With a 316 stainless steel housing, these bearings won't rust from salt water, chlorine, or chemicals. All are lubricated with NSF registered H1 grease, which is certified for incidental contact with food.
Set-screw bearings secure to shafts as you tighten their screw. They don't need a collar; however, the screws leave some marring on the shaft.
Concentric-lock bearings have a collar that centers and secures the shaft in the bearing bore. To install, tighten the single screw on the collar around its inner ring on your shaft. These bearings have a secure grip on the shaft that reduces vibration and noise.
For technical drawings and 3-D models, click on a part number.
Radial Load


Capacity,

lbs.

For
Shaft


Dia.

Height
Length
Width
Flange


Thick.

Hole


Dia.

Hole


Ctr.-to-Ctr.

Dynamic
Static

Max.




Speed,


rpm

Temp.




Range,




°F

Alignment
Style
Environmental
Rating
Each

Sealed Steel Bearings with 316 Stainless Steel Housing

Shaft Mount

Type:

Set Screw

3/4

"
1

9/32

"
3

3/8

"
2

19/64

"

7/16

"

3/8

"
2

1/2

"
2,610
1,440
3,100
-20° to 220°
Self Aligning
IP69K

0000000
0000000
1"
1

7/16

"
3

3/4

"
2

7/16

"

17/32

"

7/16

"
2

3/4

"
2,800
1,650
2,700
-20° to 220°
Self Aligning
IP69K

0000000
000000
1

3/8

"
1

3/4

"
4

5/8

"
2

3/4

"

9/16

"

1/2

"
3

5/8

"
5,780
3,490
2,000
-20° to 220°
Self Aligning
IP69K

0000000
000000
1

1/2

"
2

1/64

"
5

1/8

"
3

1/64

"

9/16

"

1/2

"
4"
7,340
4,460
1,750
-20° to 220°
Self Aligning
IP69K

0000000
000000
20mm
32.5mm
85.7mm
58.3mm
11.1mm
9.5mm
63.5mm
2,610
1,440
3,100
-20° to 220°
Self Aligning
IP69K

0000000
000000
25mm
36.5mm
95.3mm
61.9mm
13.5mm
11.1mm
69.9mm
2,800
1,650
2,700
-20° to 220°
Self Aligning
IP69K

0000000
000000
50mm
54.8mm
142.89999mm
77.4mm
14.3mm
14.2mm
111.1mm
7,880
5,210
1,500
-20° to 220°
Self Aligning
IP69K

0000000
000000

Shaft Mount

Type:

Concentric Lock

1"
1

7/16

"
3

3/4

"
2

7/16

"

17/32

"

7/16

"
2

3/4

"
2,800
1,650
2,700
-20° to 220°
Self Aligning
IP69K

0000000
000000
1

1/4

"
1

3/4

"
4

5/8

"
2

3/4

"

9/16

"

1/2

"
3

5/8

"
5,780
3,490
2,000
-20° to 220°
Self Aligning
IP69K

0000000
000000
1

7/16

"
1

3/4

"
4

5/8

"
2

1/4

"

9/16

"

1/2

"
3

5/8

"
5,780
3,490
2,000
-20° to 220°
Self Aligning
IP69K

0000000
000000
1

1/2

"
2

1/64

"
5

1/8

"
3

1/64

"

9/16

"

1/2

"
4"
7,340
4,460
1,750
-20° to 220°
Self Aligning
IP69K

0000000
000000
2"
2

5/16

"
6

3/8

"
3

13/32

"

13/16

"

5/8

"
5

1/8

"
9,750
6,600
1,350
-20° to 220°
Self Aligning
IP69K

0000000
000000
2

7/16

"
2

11/16

"
6

7/8

"
3

51/64

"

13/16

"

5/8

"
5

5/8

"
11,780
8,150
1,250
-20° to 220°
Self Aligning
IP69K

0000000
000000