Vibration-Damping

Oil-Embedded

Mounted Sleeve Bearings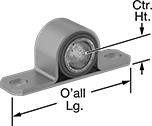 With a flexible layer of neoprene sandwiched between an oil-embedded bronze bearing and rigid steel shell, these bearings reduce wear and machinery noise. At startup, friction causes the bearing to release a thin layer of oil on the bearing's surface. All are self-aligning to compensate for shaft misalignment.
Note: Dynamic load capacity is the maximum load a bearing can withstand at a given shaft speed. If your application's load and speed requirements are below the values listed, the bearing will work.
For technical drawings and 3-D models, click on a part number.
For
Shaft


Dia.

Center


Ht.

Ht.

Lg.

Wd.

Bearing


Wd.

Hole


Lg.

Hole


Wd.

Hole


Ctr.-to-Ctr.

Dynamic
Radial
Load

Cap.

Temp.




Range,




°F

Alignment
Style
Lubrication
Each

SAE 841 Bronze Bearings with Steel Housing

1/4

"

9/16

"
1

1/8

"
2

3/4

"
1"
1"

15/32

"

5/16

"
2"
500 lbs. @ 120 rpm
0° to 225°
Self Aligning
Lubricated
0000000
000000

3/8

"

9/16

"
1

1/8

"
2

3/4

"
1"
1"

15/32

"

5/16

"
2"
750 lbs. @ 120 rpm
0° to 225°
Self Aligning
Lubricated
0000000
00000

1/2

"

9/16

"
1

1/8

"
2

3/4

"
1"
1"

15/32

"

5/16

"
2"
1,000 lbs. @ 120 rpm
0° to 225°
Self Aligning
Lubricated
0000000
00000

5/8

"

45/64

"
1

13/32

"
3

3/4

"
1

1/4

"
1

1/4

"

9/16

"

3/8

"
3"
1,550 lbs. @ 60 rpm
0° to 225°
Self Aligning
Lubricated
0000000
00000

3/4

"

45/64

"
1

13/32

"
3

3/4

"
1

1/4

"
1

1/4

"

9/16

"

3/8

"
3"
1,850 lbs. @ 60 rpm
0° to 225°
Self Aligning
Lubricated
0000000
00000

7/8

"

15/16

"
1

7/8

"
5"
1

1/2

"
1

1/2

"

5/8

"

1/2

"
4"
2,600 lbs. @ 60 rpm
0° to 225°
Self Aligning
Lubricated
0000000
00000
1"

15/16

"
1

7/8

"
5"
1

1/2

"
1

1/2

"

5/8

"

1/2

"
4"
3,000 lbs. @ 60 rpm
0° to 225°
Self Aligning
Lubricated
0000000
00000
1

1/8

"
1

1/16

"
2

1/8

"
6"
1

3/4

"
1

3/4

"

13/16

"

1/2

"
4

9/16

"
3,900 lbs. @ 30 rpm
0° to 225°
Self Aligning
Lubricated
0000000
00000
1

1/4

"
1

1/16

"
2

1/8

"
6"
1

3/4

"
1

3/4

"

13/16

"

1/2

"
4

9/16

"
4,350 lbs. @ 30 rpm
0° to 225°
Self Aligning
Lubricated
0000000
00000