About Ball and Roller Bearings
Washdown
Compact-Base

Mounted Ball Bearings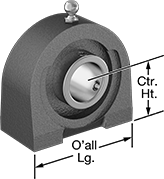 With Set Screw

Bottom of Bearing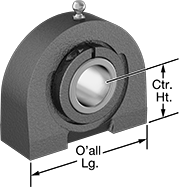 With Concentric Lock
Mounting with threaded holes in their base and IP69K certified for washdown environments, these bearings fit in tight spaces and are used in food-, beverage-, pharmaceutical-, and chemical-processing plants. Also known as tapped-base mounted ball bearings, they require access to the underside of the mounting surface. All have NSF registered H1 lubrication, which is certified for incidental contact with food and suitable for use in food and beverage applications.
Set screw bearings secure to shafts when you tighten their screw. They don't need a collar, but the screw does leave some marring on shafts.
Concentric lock bearings have a locking collar to center shafts and secure them better than set screw bearings, so there's less vibration and noise. To install them, tighten the locking collar's screw so it grips the inner ring.
For technical drawings and 3-D models, click on a part number.
Radial Load


Capacity,

lbs.

For
Shaft


Dia.

Center


Ht.

Ht.

Lg.

Wd.

Hole
Thread
Size
Hole
Thread
Type
Hole


Dp.

Hole


Ctr.-to-Ctr.

Dynamic
Static

Max.




Speed,


rpm

Temp.




Range,




°F

Alignment
Style
Lubrication
Specifications
Met
Each

Sealed Steel Bearings with

Polymer-Coated

Cast Iron Housing

Shaft Mount

Type:

Set Screw

3/4

"
1

5/16

"
2

9/16

"
3

1/8

"
1

1/2

"

3/8

"-16
UNC
0.5"
2"
2,610
1,440
3,100
-20° to 220°
Self Aligning
Lubricated
NSF Registered H1

0000000
0000000
1"
1

7/16

"
2

13/16

"
3"
1

1/2

"

3/8

"-16
UNC
0.5"
2"
2,800
1,650
2,700
-20° to 220°
Self Aligning
Lubricated
NSF Registered H1

0000000
000000
1

3/16

"
1

11/16

"
3

13/32

"
4"
1

1/2

"

7/16

"-14
UNC
0.625"
3"
4,380
2,560
2,300
-20° to 220°
Self Aligning
Lubricated
NSF Registered H1

0000000
000000
1

1/4

"
1

11/16

"
3

13/32

"
4"
1

1/2

"

7/16

"-14
UNC
0.625"
3"
4,380
2,560
2,300
-20° to 220°
Self Aligning
Lubricated
NSF Registered H1

0000000
000000
1

1/4

"
1

7/8

"
3

3/4

"
4

1/4

"
1

7/8

"

1/2

"-13
UNC
0.75"
3

1/4

"
5,780
3,490
2,000
-20° to 220°
Self Aligning
Lubricated
NSF Registered H1

0000000
000000
1

3/8

"
1

7/8

"
3

3/4

"
4

1/4

"
1

7/8

"

1/2

"-13
UNC
0.75"
3

1/4

"
5,780
3,490
2,000
-20° to 220°
Self Aligning
Lubricated
NSF Registered H1

0000000
000000
1

7/16

"
1

7/8

"
3

3/4

"
4

1/4

"
1

7/8

"

1/2

"-13
UNC
0.75"
3

1/4

"
5,780
3,490
2,000
-20° to 220°
Self Aligning
Lubricated
NSF Registered H1

0000000
000000
1

1/2

"
1

15/16

"
3

15/16

"
4

5/8

"
1

7/8

"

1/2

"-13
UNC
0.75"
3

1/2

"
7,340
4,460
1,750
-20° to 220°
Self Aligning
Lubricated
NSF Registered H1

0000000
000000
1

15/16

"
2

1/4

"
4

5/8

"
5

1/2

"
2"

5/8

"-11
UNC
0.875"
4"
9,750
5,210
1,500
-20° to 220°
Self Aligning
Lubricated
NSF Registered H1

0000000
000000

Shaft Mount

Type:

Concentric Lock

30mm
1

11/16

"
3

13/32

"
4"
1

1/2

"

7/16

"-14
UNC
0.625"
3"
4,380
2,560
2,300
-20° to 220°
Self Aligning
Lubricated
NSF Registered H1

0000000
000000