About Ball and Roller Bearings
Washdown Mounted Ball Bearings with
Four-Bolt

Flange
Meeting IP69K for washdown environments, these mounted ball bearings are used in food, beverage, pharmaceutical, and chemical plants. They have excellent corrosion resistance and prevent rusting caused by salt water, chlorine solutions, and chemicals because their housing is 316 stainless steel. All have USDA H1 approved lubrication, which is certified for incidental contact with food and is suitable for food and beverage applications.
Set screw bearings secure to shafts as you tighten their screw. They don't need a collar, but the screw does leave some marring on shafts.
Clamp on bearings have a locking collar to center shafts and secure them better than set screw bearings, so there's less vibration and noise. To install them, tighten the locking collar's screw until it grips the inner ring.
Snap optional covers onto bearings to shield them from moisture. Made of polypropylene, they resist corrosion, won't absorb water, and are FDA compliant.
For technical drawings and 3-D models, click on a part number.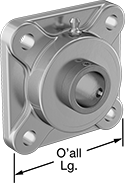 With Set Screw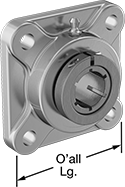 With Clamp On Collar
For
Shaft


Dia.

Ht.

Lg.

Wd.

Flange


Thick.

Hole


Dia.

Hole


Ctr.-to-Ctr.

Dynamic
Static

Max.




Speed,


rpm

Temp.




Range,




°F

Alignment
Style
Lubrication
Specifications
Met
Each

Sealed Steel Bearings with 316 Stainless Steel Housing

Shaft Mount

Type:

Set Screw

3/4

"
3

3/8

"
3

3/8

"
1

9/32

"

7/16

"

13/32

"
2

1/2

"
2,600
1,400
3,000
-20° to 220°
Self Aligning
Lubricated
NSF Registered H1

00000000
0000000
1"
3

3/4

"
3

3/4

"
1

7/16

"

17/32

"

15/32

"
2

3/4

"
2,800
1,650
2,000
-20° to 220°
Self Aligning
Lubricated
NSF Registered H1

00000000
000000
1

1/4

"
4

1/4

"
4

1/4

"
2

37/64

"

17/32

"

7/16

"
3

1/4

"
4,350
2,550
2,000
-20° to 220°
Self Aligning
Lubricated
NSF Registered H1

00000000
000000
1

7/16

"
4

5/8

"
4

5/8

"
1

3/4

"

9/16

"

17/32

"
3

5/8

"
5,750
3,450
2,000
-20° to 220°
Self Aligning
Lubricated
NSF Registered H1

00000000
000000
1

1/2

"
5

1/8

"
5

1/8

"
2

1/64

"

9/16

"

17/32

"
4"
7,300
4,450
1,750
-20° to 220°
Self Aligning
Lubricated
NSF Registered H1

00000000
000000
1

11/16

"
5

3/8

"
5

3/8

"
2

3/64

"

9/16

"

19/32

"
4

1/8

"
7,900
5,100
1,500
-20° to 220°
Self Aligning
Lubricated
NSF Registered H1

00000000
000000
2

7/16

"
6

7/8

"
6

7/8

"
2

11/16

"

13/16

"

21/32

"
5

5/8

"
11,750
8,510
1,250
-20° to 220°
Self Aligning
Lubricated
NSF Registered H1

00000000
000000

Shaft Mount

Type:

Clamp On

3/4

"
3

3/8

"
3

3/8

"
1

9/32

"

7/16

"

13/32

"
2

1/2

"
2,600
1,400
3,000
-20° to 220°
Self Aligning
Lubricated
NSF Registered H1

00000000
000000
1"
3

3/4

"
3

3/4

"
1

7/16

"

17/32

"

15/32

"
2

3/4

"
2,800
1,650
2,000
-20° to 220°
Self Aligning
Lubricated
NSF Registered H1

00000000
000000
1

1/4

"
4

1/4

"
4

1/2

"
1

9/16

"

17/32

"

15/32

"
3

1/4

"
4,350
2,550
2,000
-20° to 220°
Self Aligning
Lubricated
NSF Registered H1

00000000
000000

Closed Cover

Open Cover
For
Shaft
Diameter
OD
Material
Mount
Type
Temperature


Range,°F

Specifications
Met
Each

Closed

3/4

", 20mm
2

1/8

", 54mm
Polypropylene Plastic
Snap In
-20° to 220°
FDA Compliant 21 CFR 177.1520

0000000
000000
1", 25mm
2

3/8

", 60mm
Polypropylene Plastic
Snap In
-20° to 220°
FDA Compliant 21 CFR 177.1520

0000000
00000
1

1/8

", 1

3/16

", 1

1/4

", 30mm
2

11/16

", 68mm
Polypropylene Plastic
Snap In
-20° to 220°
FDA Compliant 21 CFR 177.1520

0000000
00000
1

1/4

", 1

3/8

", 1

7/16

", 35mm
3

1/16

", 78mm
Polypropylene Plastic
Snap In
-20° to 220°
FDA Compliant 21 CFR 177.1520

0000000
00000
1

1/2

", 1.575", 40mm
3

3/8

", 86mm
Polypropylene Plastic
Snap In
-20° to 220°
FDA Compliant 21 CFR 177.1520

0000000
00000
1

11/16

", 1

3/4

", 45mm
3

9/16

", 90mm
Polypropylene Plastic
Snap In
-20° to 220°
FDA Compliant 21 CFR 177.1520

0000000
00000
2

3/8

", 2

7/16

", 60mm
4

5/8

", 117mm
Polypropylene Plastic
Snap In
-20° to 220°
FDA Compliant 21 CFR 177.1520

0000000
00000

Open

3/4

", 20mm
2

1/8

", 54mm
Polypropylene Plastic
Snap In
-20° to 220°
FDA Compliant 21 CFR 177.1520

0000000
00000
1", 25mm
2

3/8

", 60mm
Polypropylene Plastic
Snap In
-20° to 220°
FDA Compliant 21 CFR 177.1520

0000000
00000
1

1/4

"
2

11/16

"
Polypropylene Plastic
Snap In
-20° to 220°
FDA Compliant 21 CFR 177.1520

0000000
00000
1

3/8

", 1

7/16

", 35mm
3

1/16

"
Polypropylene Plastic
Snap In
-20° to 220°
FDA Compliant 21 CFR 177.1520

0000000
00000
1

1/2

", 1.575", 40mm
3

3/8

", 86mm
Polypropylene Plastic
Snap In
-20° to 220°
FDA Compliant 21 CFR 177.1520

0000000
00000
1

11/16

"
3

9/16

"
Polypropylene Plastic
Snap In
-20° to 220°
FDA Compliant 21 CFR 177.1520

0000000
00000
2

3/8

", 2

7/16

", 60mm
4

11/16

", 119mm
Polypropylene Plastic
Snap In
-20° to 220°
FDA Compliant 21 CFR 177.1520

0000000
00000