Electrical-Insulating

Sleeve Washers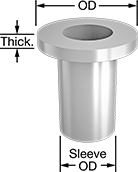 Also known as shoulder or insulator washers, these nonmetal washers block electrical current and prevent galvanic corrosion from mating different types of metal.
Nylon 6/6 washers have good abrasion resistance. Exposure to moisture may cause them to expand.
For technical drawings and 3-D models, click on a part number.
For Screw
Size
ID
OD
Sleeve
OD

Thick.

Overall


Ht.

Min.

Max.

Hardness
Color

Pkg.




Qty.

Pkg.

No. 4
0.115"
0.242"
0.140"
0.046"
0.171"
-40°
180°
Rockwell R108
Off-White
100
000000000
00000