About Ball and Roller Bearings
About Shaft Collars
Shaft collars are useful for holding and positioning components on a shaft. They can also serve as mechanical stops and stroke limiters.
Precision
Angular-Contact

Thrust Ball Bearings

These bearings have angular raceways for combined thrust and radial loads—install them where precision tolerances are required for accuracy and high speeds. They're often used in spindle applications. To handle thrust loads in both directions, they have a double-row construction. Pair them with cylindrical roller bearings to better handle radial loads. They have an open construction to dissipate heat efficiently.
For technical drawings and 3-D models, click on a part number.
Combined Load


Capacity,

lbs.

Bearing
Trade
Number
For Shaft


Diameter,


mm
For
Housing


ID,

mm

Width,


mm
Ring
Material
Dynamic
Static
Maximum


Speed,


rpm
Lubrication
Contact
Angle
Temperature


Range,




°F

ABEC
Rating
Each

Double Row

Open

BTW 180
180
280
120
Steel
44,700
159,600
2,000
Required
60°
-40° to 240°
ABEC-7
0000000
0000000000
Bearing Retaining Nuts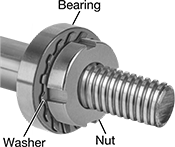 Often paired with spring lock washers to strengthen their hold, these retaining nuts—also known as shaft nuts—keep vibration from shifting bearings, bushings, pulleys, and gears on your threaded shaft or spindle. They have slotted sides, so you can tighten and loosen them with a spanner wrench or spanner socket. Made of carbon steel, they're strong and wear resistant.
Use stepped-face retaining nuts with DIN 462 spring lock washers. You can also use them in pairs or with other bearing retaining nuts as jam nuts. For the nut closer to the bearing, position the stepped face towards the bearing. All meet DIN standards for bearing lockout dimensions.
Chamfered-face retaining nuts weigh less and produce less heat than stepped-face nuts. They meet ISO 2982 (formerly DIN 981), an international standard for bearing locknut dimensions. Their sizes correspond to SKF KM series. Use them with DIN 5406 spring lock washers.
For technical drawings and 3-D models, click on a part number.