Electrical-Insulating

Sleeve Washers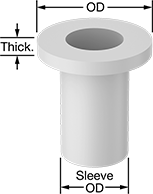 Also known as shoulder or insulator washers, these nonmetal washers block electrical current and prevent galvanic corrosion from mating different types of metal.
Nylon 6/6 washers have good abrasion resistance. Exposure to moisture may cause them to expand.
Ceramic washers withstand high temperatures and resist moisture as well as hydrochloric and nitric acid gases.