About Track Rollers
Also known as cam followers, track rollers have a thick outer roller that runs directly on a flat surface.
Flanged Threaded Track Rollers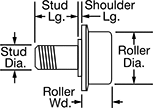 Thread the stud directly into a component or secure with a nut for through-hole mounting. The flange provides guidance and helps the roller stay on track. All rollers are permanently lubricated and have end seals to retain lubricant and protect rolling elements from dirt and contamination.
Stainless steel rollers offer increased corrosion resistance over steel rollers.
For technical drawings and 3-D models, click on a part number.
Dia.

Wd.

Dia.

Lg.

Size

Lg.

Dia.

Lg.

OD

Thick.

Max.




Speed,


rpm
Radial
Thrust

Max.




Temp.,




°F

Includes
Each

440C Stainless Steel Flat Rollers with Seal

Ball Bearing

1"

3/4

"

7/16

"
1"

7/16

"-20

1/2

"

1/2

"

1/32

"
1

3/8

"

7/32

"
6,000
150
150
225°
Mounting Hardware
0000000
0000000
1

1/4

"

13/16

"

1/2

"
1

1/4

"

1/2

"-20

5/8

"

5/8

"

1/32

"
1

9/16

"

7/32

"
6,000
280
230
225°
Mounting Hardware
0000000
000000
1

1/2

"
1

1/8

"

5/8

"
1

1/2

"

5/8

"-18

3/4

"

3/4

"

1/16

"
2

3/16

"

11/32

"
6,000
440
350
225°
Mounting Hardware
0000000
000000
2"
1

5/8

"

7/8

"
2"

7/8

"-14

1

1/8

"
1"

1/16

"
2

11/16

"

19/32

"
6,000
1,000
740
225°
Mounting Hardware
0000000
000000
2

1/2

"
1

5/8

"
1"
2

1/4

"
1"-14

1

1/2

"
1

1/4

"

1/16

"
3

3/16

"

19/32

"
6,000
1,000
740
225°
Mounting Hardware
0000000
000000

Steel Flat Rollers with Seal

Ball Bearing

1"

3/4

"

7/16

"
1"

7/16

"-20

1/2

"

1/2

"

1/32

"
1

3/8

"

7/32

"
8,000
230
140
225°
Mounting Hardware
0000000
00000
1

1/8

"

3/4

"

7/16

"
1"

7/16

"-20

1/2

"

1/2

"

1/32

"
1

1/2

"

7/32

"
8,000
230
140
225°
Mounting Hardware
0000000
00000
1

1/4

"

13/16

"

1/2

"
1

1/4

"

1/2

"-20

5/8

"

5/8

"

1/32

"
1

9/16

"

7/32

"
8,000
600
370
225°
Mounting Hardware
0000000
00000
1

3/8

"

13/16

"

1/2

"
1

1/4

"

1/2

"-20

5/8

"

5/8

"

1/32

"
1

11/16

"

7/32

"
8,000
600
370
225°
Mounting Hardware
0000000
00000
1

1/2

"
1

1/8

"

5/8

"
1

1/2

"

5/8

"-18

3/4

"

3/4

"

1/16

"
2

3/16

"

11/32

"
6,000
1,100
470
225°
Mounting Hardware
0000000
00000
1

3/4

"
1

1/8

"

3/4

"
1

3/4

"

3/4

"-16

7/8

"
1"

1/16

"
2

7/16

"

11/32

"
6,000
1,100
470
225°
Mounting Hardware
0000000
00000
2"
1

5/8

"

7/8

"
2"

7/8

"-14

1

1/8

"
1"

1/16

"
2

11/16

"

19/32

"
6,000
1,600
910
225°
Mounting Hardware
0000000
00000
2

1/4

"
1

5/8

"

7/8

"
2"

7/8

"-14

1

1/8

"
1"

1/16

"
2

15/16

"

19/32

"
6,000
1,600
910
225°
Mounting Hardware
0000000
00000
2

1/2

"
1

5/8

"
1"
2

1/4

"
1"-14

1

1/2

"
1

1/4

"

1/16

"
3

3/16

"

19/32

"
4,000
2,200
1,300
225°
Mounting Hardware
0000000
00000
26mm
20mm
10mm
23mm
M10

13mm
13.1mm
0.8mm
35mm
5mm
Not Rated
220
130
225°
Mounting Hardware
00000000
00000
35mm
22mm
16mm
32.5mm
M16

18mm
19.1mm
0.8mm
46mm
5mm
Not Rated
600
370
225°
Mounting Hardware
00000000
00000
40mm
30mm
14mm
40mm
M14

26mm
18mm
1.6mm
54mm
8.8mm
Not Rated
1,100
680
225°
Mounting Hardware
00000000
00000
50mm
40mm
16mm
50mm
M16

35mm
23mm
1.6mm
68mm
14mm
Not Rated
1,600
1,000
225°
Mounting Hardware
00000000
00000

Roller Bearing

72mm
44mm
24mm
49.5mm
M24

25mm
32mm
1.6mm
90mm
14mm
Not Rated
7,600
4,500
225°
Mounting Hardware
00000000
000000
76mm
52mm
30mm
69.5mm
M30

40mm
44.5mm
1.6mm
98mm
14mm
Not Rated
19,900
12,000
225°
Mounting Hardware
00000000
000000
80mm
52mm
30mm
69.5mm
M30

40mm
44.5mm
1.6mm
102mm
14mm
Not Rated
19,900
12,000
225°
Mounting Hardware
00000000
000000
100mm
52mm
30mm
80mm
M30

50mm
44.5mm
1.6mm
125mm
14mm
Not Rated
19,900
12,000
225°
Mounting Hardware
00000000
000000

Tapered Roller Bearing

3"
1

15/16

"
1

1/4

"
2

1/2

"
1

1/4

"-12

1

3/4

"
1

3/4

"

1/16

"
3

15/16

"

19/32

"
1,100
9,800
12,000
225°
Mounting Hardware
0000000
000000
3

1/2

"
1

15/16

"
1

1/4

"
2

3/4

"
1

1/4

"-12

1

3/4

"
1

3/4

"

1/16

"
4

7/16

"

19/32

"
1,100
9,800
12,000
225°
Mounting Hardware
0000000
000000