About Track Rollers
Also known as cam followers, track rollers have a thick outer roller that runs directly on a flat surface.
Sanitary Threaded
V-Groove

Track Rollers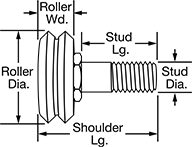 Guide loads along angle rail tracks in food and pharmaceutical plants or other sanitary environments with these threaded rollers. They're permanently lubricated, a feature often seen in sanitary areas where repeated lubrication could cause contamination. Their lubricant is NSF registered H1 as safe for incidental contact with food. They're made of stainless steel, so they won't corrode from frequent washdowns with harsh cleaners. The bearings are sealed and shielded to keep out liquid and make sure the lubricant stays intact. These rollers have a V-groove profile, which allows debris to fall off when they're mounted on angle rails. They're also known as cam followers.
Rollers with a standard shoulder have a threaded mounting stud. Thread them directly into a component, or secure them with a nut for through-hole mounting.
Rollers with an adjustable shoulder are also known as eccentric track rollers. They can be moved up and down, and they're commonly used alongside standard rollers to correct misalignment. Secure them with a nut for through-hole mounting.
For technical drawings and 3-D models, click on a part number.
Dia.

Wd.

Dia.

Lg.

Size

Pitch,


mm

Lg.,


mm
Shoulder


Lg.,


mm
Hex
Shoulder


Wd.,

mm

Ht.

Adjustment


Capability,


mm

Wd.

Dp.

Max.




Speed,


rpm
Static
Dynamic
Static Thrust
Load

Cap.,




lbs.

Max.




Temp.,




°F

Bearing
Type
Includes
Each

Single-Sealed

440C Stainless Steel

V-Groove

Rollers

Standard Shoulder

31
11
10
25
M10

1.5
15
3.1
14
1
6
3
3,400
590
590
140
175°
Ball
Mounting Hardware
0000000
0000000
46
16
12
30
M12

1.75
18
4.1
19
1.5
8
4
2,200
1,300
1,300
380
175°
Ball
Mounting Hardware
0000000
000000

Adjustable Shoulder

31
11
10
25
M10

1.5
15
3.1
14
1
6
3
3,400
590
590
140
175°
Ball
Mounting Hardware
0000000
000000
46
16
12
30
M12

1.75
18
4.1
19
1.5
8
4
2,200
1,300
1,300
380
175°
Ball
Mounting Hardware
0000000
000000