About Track Rollers
Also known as cam followers, track rollers have a thick outer roller that runs directly on a flat surface.
Threaded Track Rollers with Adjustable Shoulder
Also known as eccentric track rollers, the shoulder adjusts up or down to align to your track, enabling uniform alignment among rollers in a system. Secure the stud with a nut for through-hole mounting. All rollers have end seals to protect rolling elements from dirt and contamination.
Crowned rollers have a slight curve, which is invisible to the naked eye, to stay centered on surfaces that are not perfectly aligned and/or not perfectly flat.
For technical drawings and 3-D models, click on a part number.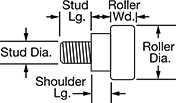 Dia.

Wd.

Dia.

Lg.

Size

Lg.

Dia.

Lg.

Ht.


Adjustment
Capability

Max.




Speed,


rpm
Static
Dynamic

Max.




Temp.,




°F

Bearing
Type
Includes
Each

Steel Flat Rollers with Seal

3/4

"

1/2

"

3/8

"

3/8

"

3/8

"-24

3/8

"

1/2

"

1/2

"
0.015"
5,000
3,100
1,800
250°
Needle Roller
Mounting Hardware
0000000
000000

7/8

"

1/2

"

3/8

"

3/8

"

3/8

"-24

3/8

"

1/2

"

1/2

"
0.015"
5,000
3,100
1,800
250°
Needle Roller
Mounting Hardware
0000000
00000
1"

5/8

"

7/16

"

1/2

"

7/16

"-20

1/2

"

5/8

"

1/2

"
0.03"
4,500
4,800
2,300
250°
Needle Roller
Mounting Hardware
0000000
00000
1

1/8

"

5/8

"

7/16

"

1/2

"

7/16

"-20

1/2

"

5/8

"

1/2

"
0.03"
4,500
4,800
2,300
250°
Needle Roller
Mounting Hardware
0000000
00000
1

1/4

"

3/4

"

1/2

"

5/8

"

1/2

"-20

5/8

"

11/16

"

5/8

"
0.03"
3,900
6,600
4,200
250°
Needle Roller
Mounting Hardware
0000000
00000
1

3/8

"

3/4

"

1/2

"

5/8

"

1/2

"-20

5/8

"

11/16

"

5/8

"
0.03"
3,900
6,600
4,200
250°
Needle Roller
Mounting Hardware
0000000
00000
1

1/2

"

7/8

"

5/8

"

3/4

"

5/8

"-18

3/4

"

7/8

"

3/4

"
0.03"
3,100
8,800
5,000
250°
Needle Roller
Mounting Hardware
0000000
00000
1

5/8

"

7/8

"

5/8

"

3/4

"

5/8

"-18

3/4

"

7/8

"

3/4

"
0.03"
3,100
8,800
5,000
250°
Needle Roller
Mounting Hardware
0000000
00000
1

3/4

"
1"

3/4

"

7/8

"

3/4

"-16

7/8

"
1"

7/8

"
0.03"
2,600
12,000
6,400
250°
Needle Roller
Mounting Hardware
0000000
00000
1

7/8

"
1"

3/4

"

7/8

"

3/4

"-16

7/8

"
1"

7/8

"
0.03"
2,600
12,000
6,400
250°
Needle Roller
Mounting Hardware
0000000
00000
2"
1

1/4

"

7/8

"
1"

7/8

"-14

1"
1

3/16

"
1"
0.03"
2,200
16,000
9,600
250°
Needle Roller
Mounting Hardware
0000000
00000
2

1/4

"
1

1/4

"

7/8

"
1"

7/8

"-14

1"
1

3/16

"
1"
0.03"
2,200
16,000
9,600
250°
Needle Roller
Mounting Hardware
0000000
00000

Steel Crowned Rollers with Seal

3/4

"

1/2

"

3/8

"

3/8

"

3/8

"-24

3/8

"

1/2

"

1/2

"
0.015"
5,000
3,100
1,800
250°
Needle Roller
Mounting Hardware
0000000
00000

7/8

"

1/2

"

3/8

"

3/8

"

3/8

"-24

3/8

"

1/2

"

1/2

"
0.015"
5,000
3,100
1,800
250°
Needle Roller
Mounting Hardware
0000000
00000
1"

5/8

"

7/16

"

1/2

"

7/16

"-20

1/2

"

5/8

"

1/2

"
0.03"
4,500
4,800
2,300
250°
Needle Roller
Mounting Hardware
0000000
00000
1

1/4

"

3/4

"

1/2

"

5/8

"

1/2

"-20

5/8

"

11/16

"

5/8

"
0.03"
3,900
6,600
4,200
250°
Needle Roller
Mounting Hardware
0000000
00000
1

3/8

"

3/4

"

1/2

"

5/8

"

1/2

"-20

5/8

"

11/16

"

5/8

"
0.03"
3,900
6,600
4,200
250°
Needle Roller
Mounting Hardware
0000000
00000
1

1/2

"

7/8

"

5/8

"

3/4

"

5/8

"-18

3/4

"

7/8

"

3/4

"
0.03"
3,100
8,800
5,000
250°
Needle Roller
Mounting Hardware
0000000
00000
1

3/4

"
1"

3/4

"

7/8

"

3/4

"-16

7/8

"
1"

7/8

"
0.03"
2,600
12,000
6,400
250°
Needle Roller
Mounting Hardware
0000000
00000
2"
1

1/4

"

7/8

"
1"

7/8

"-14

1"
1

3/16

"
1"
0.03"
2,200
16,000
9,600
250°
Needle Roller
Mounting Hardware
0000000
00000
2

1/4

"
1

1/4

"

7/8

"
1"

7/8

"-14

1"
1

3/16

"
1"
0.03"
2,200
16,000
9,600
250°
Needle Roller
Mounting Hardware
0000000
00000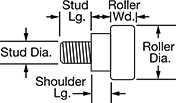 Dia.

Wd.

Dia.

Lg.

Size

Pitch,


mm

Lg.,


mm

Dia.

Lg.

Ht.

Adjustment


Capability,


mm

Max.




Speed,


rpm
Static
Dynamic

Max.




Temp.,




°F

Bearing
Type
Includes
Each

Steel Flat Rollers with Seal

16
11
6
16
M6

1
9
9
7
0.5
13,000
520
1,300
250°
Needle Roller
Mounting Hardware
0000000
0000000
19
11
8
20
M8

1.25
11
11
9
0.5
10,000
1,100
1,500
250°
Needle Roller
Mounting Hardware
0000000
000000
22
12
10
23
M10

1
12
13
10
0.5
9,000
2,300
1,700
250°
Needle Roller
Mounting Hardware
0000000
000000
26
12
10
23
M10

1
12
13
10
0.5
9,000
2,300
1,700
250°
Needle Roller
Mounting Hardware
0000000
000000

Steel Crowned Rollers with Seal

16
11
6
16
M6

1
9
9
7
0.5
13,000
520
1,300
250°
Needle Roller
Mounting Hardware
0000000
000000
19
11
8
20
M8

1.25
11
11
9
0.5
10,000
1,100
1,500
250°
Needle Roller
Mounting Hardware
0000000
000000
26
12
10
23
M10

1.25
13
13
10
0.5
9,000
2,300
1,700
250°
Needle Roller
Mounting Hardware
0000000
000000