About Track Rollers
Also known as cam followers, track rollers have a thick outer roller that runs directly on a flat surface.
Threaded
V-Groove

Track Rollers


External Hex Shoulder Drive
Thread the stud directly into a component or secure with a nut for through-hole mounting. Rollers are for use with Angle Rails for V-Groove Track Rollers. They handle radial and thrust (top and side) loads and work well in dirty environments because debris falls off the angled rail. Also known as cam followers, track rollers support loads while guiding and positioning work. All rollers are permanently lubricated.
440C stainless steel rollers offer better corrosion resistance than steel rollers.
Rollers with a plastic overmold make less than noise than other rollers, and they're suitable for corrosive environments. However, they have lower weight capacities than other similarly sized rollers and they're less corrosion resistant than other stainless steel rollers.
Rollers with a seal block out dust and other contaminants better than shielded rollers, but they hold more heat. Their seal also helps retain lubricant.
For technical drawings and 3-D models, click on a part number.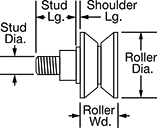 Dia.

Wd.

Dia.

Lg.

Size

Lg.

Dia.

Lg.

Wd.

Dp.

Max.




Speed,


rpm
Static
Dynamic
Static Thrust
Load

Cap.,




lbs.

Max.




Temp.,




°F

Bearing
Type
Includes
Each

Steel

V-Groove

Rollers with Seal

1

1/2

"

3/4

"

7/16

"
1"

7/16

"-20

1/2

"

1/2

"

1/32

"

3/8

"

3/16

"
8,000
230
230
140
225°
Ball
Mounting Hardware
0000000
000000
2"

13/16

"

1/2

"
1

1/4

"

1/2

"-20

5/8

"

5/8

"

1/32

"

5/8

"

5/16

"
6,000
600
500
370
225°
Ball
Mounting Hardware
0000000
000000
2

1/2

"
1

1/4

"

3/4

"
1

3/4

"

3/4

"-16

7/8

"
1"

1/16

"
1"

1/2

"
6,000
1,100
1,000
680
225°
Ball
Mounting Hardware
0000000
000000
3

1/2

"
1

5/8

"

7/8

"
2"

7/8

"-14

1

1/8

"
1"

1/16

"
1

1/4

"

5/8

"
4,000
2,200
1,900
1,400
225°
Ball
Mounting Hardware
0000000
000000
3

1/2

"
1

11/16

"

3/4

"
2"

3/4

"-16

1

1/8

"
1

1/4

"

1/8

"
1

1/4

"

5/8

"
Not Rated
7,200
3,700
3,150
225°
Tapered Roller
Mounting Hardware
0000000
000000
4

1/2

"
1

15/16

"
1

1/4

"
2

1/2

"
1

1/4

"-12

1

3/4

"
1

3/4

"

1/16

"
1

1/2

"

3/4

"
Not Rated
20,000
6,000
12,000
225°
Tapered Roller
Mounting Hardware
0000000
000000
Hex Stud End Drive—Metric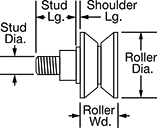 Dia.

Wd.

Dia.

Lg.

Size

Pitch,


mm

Lg.,


mm

Dia.

Lg.

Wd.

Dp.

Max.


Speed
Static
Dynamic
Static Thrust
Load

Cap.,




lbs.

Max.




Temp.,




°F

Bearing
Type
Includes
Each

Steel

V-Groove

Rollers with Seal

40
19.2
10
23
M10

1
13
13.1
0.8
14
7
Not Rated
220
240
130
225°
Ball
Mounting Hardware
0000000
000000
50
21.2
12
25
M12

1.5
14
15.9
0.8
18
9
Not Rated
600
510
370
225°
Ball
Mounting Hardware
0000000
00000
60
31.4
14
40
M14

2
26
18
1.6
20
10
Not Rated
1,100
1,050
680
225°
Ball
Mounting Hardware
0000000
00000
90
42.9
24
57.9
M24

3
35
32
1.6
28
14
Not Rated
2,260
1,980
1,400
225°
Ball
Mounting Hardware
0000000
00000
External Hex Shoulder Drive—Metric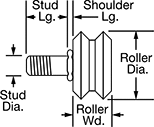 Dia.

Wd.

Dia.

Lg.

Size

Pitch,


mm

Lg.,


mm
Shoulder


Lg.,


mm
Hex
Shoulder


Wd.,

mm

Wd.

Dp.

Max.




Speed,


rpm
Static
Dynamic
Static Thrust
Load

Cap.,




lbs.

Max.




Temp.,




°F

Bearing
Type
Features
Includes
Each

440C Stainless Steel

V-Groove

Rollers with Seal

15
6
4
10
M4

0.7
6
2
9.5
3
1
7,000
270
270
50
500°
Ball
__
Mounting Hardware
0000000
0000000
15
6
4
10
M4

0.7
6
2
11
3
1
7,000
140
140
20
210°
Ball
__
Mounting Hardware
0000000
00000
15
6
6
8
M6

1
7
2.9
9.5
3
1
7,000
140
140
20
210°
Ball
__
__
0000000
00000
20
8
6
15
M6

1
9
2.1
12
4
2
5,000
220
220
45
500°
Ball
__
Mounting Hardware
0000000
000000
20
8
6
15
M6

1
9
2.1
12
4
2
5,300
270
270
50
210°
Ball
__
Mounting Hardware
0000000
00000
31
11
10
25
M10

1.5
15
2.6
14
6
3
3,400
490
450
110
500°
Ball
__
Mounting Hardware
0000000
000000
31
11
10
25
M10

1.5
15
2.6
14
6
3
3,400
590
590
140
210°
Ball
__
Mounting Hardware
0000000
000000
46
16
12
15
M12

1.75
15
5.6
19.05
8
4
2,200
1,100
1,100
300
500°
Ball
__
__
0000000
000000
46
16
12
32
M12

1.75
18
3.4
19
8
4
2,200
1,100
1,100
300
500°
Ball
__
Mounting Hardware
0000000
000000
60
19
16
40
M16

2
24
3.1
22.2
9
5
1,700
2,100
2,100
900
210°
Ball
__
Mounting Hardware
0000000
000000

440C Stainless Steel

V-Groove

Rollers without Seal

15
6
6
8
M6

1
7
2.9
11
3
1
1,290
6
6
3
245°
Ball
Plastic Overmold, Shielded
__
0000000
00000
20
8
6
15
M6

1
9
2.1
12
4
2
5,300
270
270
50
245°
Ball
Shielded
Mounting Hardware
0000000
00000

Steel

V-Groove

Rollers with Seal

20
8
8
8
M8

1.25
8
3.3
11.11
4
2
5,000
270
270
50
245°
Ball
__
__
0000000
00000
31
11
10
11
M10

1.5
11
4.1
14.29
6
3
3,400
590
590
140
245°
Ball
__
__
0000000
00000
31
11
10
25
M10

1.5
15
2.6
14
6
3
3,400
590
590
140
210°
Ball
__
Mounting Hardware
0000000
00000
46
16
12
15
M12

1.75
15
5.6
19.05
8
4
2,200
1,300
1,300
380
245°
Ball
__
__
0000000
00000
46
16
12
30
M12

1.75
18
3.4
19
8
4
2,200
1,300
1,300
350
210°
Ball
__
Mounting Hardware
0000000
00000

Steel

V-Groove

Rollers without Seal

20
8
8
8
M8

1.25
8
3.3
11.11
4
2
5,300
120
120
20
245°
Ball
Shielded
__
0000000
00000
31
11
10
11
M10

1.5
11
4
14
5
3
620
16
16
9
245°
Ball
Plastic Overmold, Shielded
__
0000000
00000