About Ball and Roller Bearings
Selecting Compatible Lead Screws and Nuts
About Shaft Collars
Shaft collars are useful for holding and positioning components on a shaft. They can also serve as mechanical stops and stroke limiters.
Precision
Angular-Contact

Thrust Ball Bearings

These bearings have angular raceways for combined thrust and radial loads—install them where precision tolerances are required for accuracy and high speeds. They're often used in spindle applications. To handle thrust loads in both directions, they have a double-row construction. Pair them with cylindrical roller bearings to better handle radial loads. They have an open construction to dissipate heat efficiently.
For technical drawings and 3-D models, click on a part number.
Combined
Load


Capacity,

lbs.

Bearing
Trade
Number
For Shaft


Diameter,


mm
For
Housing


ID,

mm

Width,


mm
Ring
Material
Dynamic
Static
Maximum


Speed,


rpm
Lubrication
Contact
Angle
Temperature


Range,




°F

ABEC
Rating
Each

Double Row

Open

BTW 35
35
62
34
Steel
3,750
8,750
11,000
Required
60°
-40° to 240°
ABEC-7
0000000
000000000
Metric Ball Screws and Nuts

Internal ball bearings provide smooth low-friction travel in applications that require high speeds, accurate positioning, and repeatable movement. Also known as single-start ball screws and nuts, these have a single thread that runs the length of the screw. They operate with more torque than fast-travel ball screws and nuts. To ensure compatibility, select components that have the same thread size and travel distance per turn. Ball nuts are furnished with a tube to keep ball bearings in place. Do not remove the tube until you are ready to install the nuts onto the screws.
Travel distance per turn, also known as screw lead, is the distance a ball nut moves with one revolution of the ball screw.
For technical drawings and 3-D models, click on a part number.
Platform Ball Nuts—Right-Hand Threaded

Thread
Size

Lg.,


mm

Wd.,


mm

Ht.,


mm
Center


Ht.,


mm

No.

of
Thread
Starts
Travel
Distance
per

Turn,

mm
Hardness
Dynamic
Thrust
Load

Cap.,

lbs.

Max.




Backlash,


mm
Includes
Temperature


Range,




°F

Each

Alloy Steel

M14

35
34
30
13
1
4
Rockwell C58
1,200
0.1
__
5° to 175°
0000000
0000000
M14

35
34
31
13
1
5
Rockwell C58
1,120
0.1
Seals
Not Rated to 175°
00000000
000000
Bearing Retaining Nuts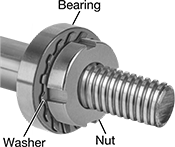 Often paired with spring lock washers to strengthen their hold, these retaining nuts—also known as shaft nuts—keep vibration from shifting bearings, bushings, pulleys, and gears on your threaded shaft or spindle. They have slotted sides, so you can tighten and loosen them with a spanner wrench or spanner socket. Made of carbon steel, they're strong and wear resistant.
Chamfered-face retaining nuts weigh less and produce less heat than stepped-face nuts. They meet ISO 2982 (formerly DIN 981), an international standard for bearing locknut dimensions. Their sizes correspond to SKF KM series. Use them with DIN 5406 spring lock washers.
For technical drawings and 3-D models, click on a part number.
Size

Pitch,


mm
Spacing

OD,


mm

Wd.,


mm
Specifications Met
For Lock Washer
Specifications Met
Each

Carbon Steel

Chamfered Face

M240
4
Extra Fine

300
34
DIN 981, ISO 2982
DIN 5406
0000000
0000000