Bird Repellent Speakers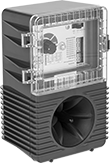 Drive away birds without traps or chemicals. These speakers play naturally recorded bird distress calls and predator cries to deter them from settling in the area. Maximize disruption to birds by programming these speakers to vary their calls at different times, and minimize disruption to yourself by setting your preferred hours for when they're turned off.
These speakers cannot be sold to Canada due to import regulations.
For
Bird
Species

Max.


Volume

Ht.

Wd.

Dp.

Material
Color
Voltage
Cord


Lg.,




ft.

Included
Size

No.


Required

Mount.


Hardware
Included
Features
Specifications
Met
Cannot
Be
Sold To
Each

43,600

sq.

ft.

Approximate Coverage

Blackbird, Cormorant, Crow, Grackle, Raven
110 dB @ 3 ft.
8

1/2

"
6"
4"
Plastic
Green
110V AC
6
No
12V
1
Yes
Programmable Settings
CE Marked, UL Listed
Canada
0000000
0000000
Gull, Pigeon, Sparrow, Starling
110 dB @ 3 ft.
8

1/2

"
6"
4"
Plastic
Green
110V AC
6
No
12V
1
Yes
Programmable Settings
CE Marked, UL Listed
Canada
0000000
000000
Sparrow, Woodpecker
110 dB @ 3 ft.
8

1/2

"
6"
4"
Plastic
Green
110V AC
6
No
12V
1
Yes
Programmable Settings
CE Marked, UL Listed
Canada
0000000
000000