Electrical Protection Blankets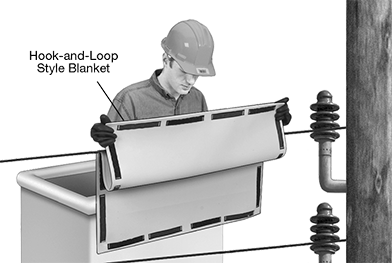 Wrap these rubber blankets around power lines and electrical equipment to protect against contact with high voltage. Use clamps to hold blanket in place.
Blankets come tested and marked with the test date. They should be tested once a year.
ASTM defines voltage classes for rubber insulating blankets according to how much protection they provide. Before working with electrical equipment, make sure you have the right protection by identifying the maximum voltage you will be exposed to.
ASTM
Class
For


Max.

AC
Voltage

Wd.,




ft.

Lg.,




ft.

Thick.,


mil

Weight,




lbs.

Grommet
Location


(Ctr.-to-Ctr.)

Clarity
Color
Features
Specifications
Met
Each

EPDM Rubber

0
1,000
3
3
62
2
__
Opaque
Yellow
Hook and Loop Fasteners
ASTM D1048
0000000
0000000
2
17,000
3
3
125
8
Sides (18")
Opaque
Black
__
ASTM D1048
0000000
000000
4
36,000
3
3
125
8
Sides (18")
Opaque
Orange
__
ASTM D1048
0000000
000000