Remote-Reading

Tension Force Gauges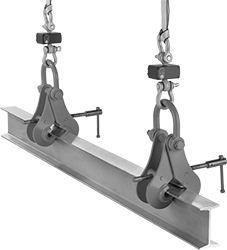 Weigh and measure tension force at a safe distance, up to 450 feet away, with these wireless gauges. Also known as dynamometers and crane scales, they're used with cranes or hoists while moving material around your plant. With a low overall height, they can be used indoors in areas with limited headroom. They can also be used outdoors because they're NEMA 6 rated, which means they're weather tight for protection from rain, snow, and ice, and they will withstand temporary submersion. Indicators are rated IP65 and load cells are rated IP67, so these gauges are protected from dust, splashing water, and low-pressure washdowns (such as from a garden hose).
A peak-hold setting continually displays the highest readings, so you can make adjustments to prevent overloads. A tare function lets you reset the gauge to zero after attaching a container to weigh only the material inside. All include a calibration certificate traceable to NIST that states they've passed a test to confirm accuracy. If you accidentally place a heavy load on these gauges, they're durable enough to handle it; they withstand a temporary load up to 500% of their capacity. The ability to take accurate readings, however, may be permanently impaired if loads exceed 200% of their capacity. To meet safety and fatigue standards, these gauges are IEC 61508 and ASME BTH-1 rated.
Gauges come with two shackles that accept other lifting fittings, such as clevis hooks. They operate on batteries, which can power their load cells for up to 2,000 hours.
Use multiple-point gauges to move materials with unevenly distributed loads that may require rigging. These gauges display real-time measurements from each load point so you can make adjustments to prevent overloads. They connect to Bluetooth-compatible smartphones or tablets using iOS 8 or later operating systems. Download the app to view and map the weights and tension forces of each load point. Warning lights flash and an alarm sounds when capacity is exceeded. They cannot be sold to California due to energy efficiency requirements.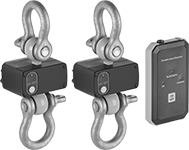 Multiple Point
(Two Load Points Shown)
Bluetooth Receiver for
Smartphone/Tablet
No.

of
Load
Points
English
Metric
Newtons
English
Metric
Newtons
English
Metric
Newtons

Ht.

Wd.

Dp.

Opening


Ht.

Opening


Wd.

Load
Point
Remote
Receiver
Cannot
Be
Sold To
Each
2
10,000 lbs.
4,500 kg
44,400 N
±10 lbs.
±5 kg
±45 N
5 lbs.
2 kg
23 N
5

3/8

"
4"
3

1/4

"
2

3/8

"
1

3/4

"
-15° to 175°
0° to 155°
CA
0000000
000000000
2
20,000 lbs.
9,000 kg
88,900 N
±20 lbs.
±9 kg
±89 N
10 lbs.
5 kg
45 N
7

3/4

"
4"
4

5/8

"
3

3/4

"
2

5/8

"
-15° to 175°
0° to 155°
CA
0000000
00000000
4
10,000 lbs.
4,500 kg
44,400 N
±10 lbs.
±5 kg
±45 N
5 lbs.
2 kg
23 N
5

3/8

"
4"
3

1/4

"
2

3/8

"
1

3/4

"
-15° to 175°
0° to 155°
CA
0000000
000000000
4
20,000 lbs.
9,000 kg
88,900 N
±20 lbs.
±9 kg
±89 N
10 lbs.
5 kg
45 N
7

3/4

"
4"
4

5/8

"
3

3/4

"
2

5/8

"
-15° to 175°
0° to 155°
CA
000000
000000000