Beverage Dispensers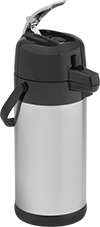 B
Often used in break rooms and cafeterias, these dispensers make it easy to serve beverages to a few people or a crowd.
Styles A and B are suitable for both hot and cold drinks. They are insulated to keep beverages at the desired temperature for an extended period of time. Style B have a pump-style lever for easy, controlled dispensing.
Style

Cap.

Dia.

Ht.

Material
Appearance
Type
Material
Color
Heat


Retention,

hrs.

Each
B
85 oz.
8"
13

3/4

"
Stainless Steel
Dull
Threaded
Plastic
Black
4
000000
000000
CamelBak Water Backpacks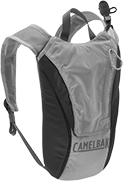 Stay hydrated while working outdoors and in other high-heat environments. These lightweight backpacks have an easy-to-fill reservoir with a delivery tube that supplies water to you.
Cleaning brush sets include a large brush for cleaning the reservoir and a small brush for cleaning the delivery tube. They cannot be sold outside the United States due to product labeling requirements.