Heavy Duty Hooks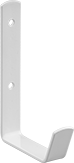 E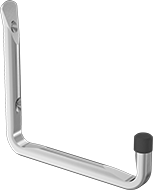 H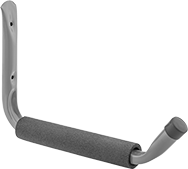 J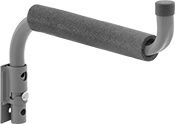 K
L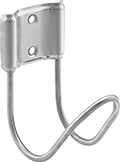 M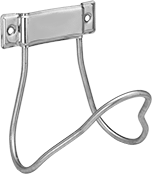 N
P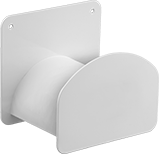 Q
Hang larger, heavier items than standard hooks with these load-rated hooks.
Styles J-L have foam padding to prevent items from slipping and scratching. They can also be used as shelf brackets. Style K swing 180° side to side to lock into three positions (right, left, and center).
Styles M-P are often used to store hose. Style P swing 60° side to side and tilt up/down for easier hose removal.
Style Q are designed to hold extension cords.
For technical drawings and 3-D models, click on a part number.
Style

Wd.

Ht.

Dp.

For
Shelf


Dp.

Cap.,




lbs.

Material
Appearance

No.

of
Mounting
Holes
Screw
Size
Mounting
Fasteners
Included

Pkg.




Qty.

Each

Wall Mount

E
1"
7

7/8

"
10

3/4

"
__
50
White Powder-Coated Steel
__
2

1/4

"
Yes
__
0000000
00000

Pkg.

H
1

1/2

"
10

5/8

"
11"
__
25
Zinc-Plated Steel
Polished
2
No. 10
Yes
2
0000000
00000
Each
J
1

5/8

"
9

7/8

"
15

1/2

"
10"
50
Gray Powder-Coated Steel
__
2
No. 12
Yes
__
0000000
0000
K
1

1/4

"
10"
12

1/4

"
8"
50
Gray Powder-Coated Steel
__
2
No. 10
Yes
__
0000000
0000
L
11

1/4

"
9

3/4

"
8

3/4

"
4"
75
Gray Powder-Coated Steel
__
3
No. 12
Yes
__
0000000
0000
M
3"
6

1/2

"
5

3/4

"
__
200
Stainless Steel
Dull
2
No. 12
Yes
__
000000
00000
N
8"
8

1/2

"
8"
__
200
Stainless Steel
Dull
2

5/16

"
Yes
__
00000000
00000
P
4

1/2

"
15

1/2

"
13"
__
70
Stainless Steel
Dull
2

5/16

"
Yes
__
00000000
00000
Q
5

1/2

"
5"
4

1/8

"
__
10
White Powder-Coated Steel
__
3
No. 10
No
__
0000000
00000