Quick-Release

Magnetic Brackets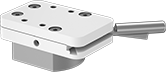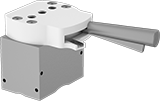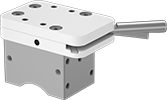 An on/off magnet control makes it easy to move and attach these brackets to metal surfaces. Secure items to the bracket plate. Magnets are made of neodymium (neodymium-iron-boron), a rare earth material. They have a case that concentrates and focuses the magnetic field. It also protects the magnetic material.
Warning: Maximum pull ratings are based on direct contact with rust-free and unpainted iron plate. Variations in material condition will significantly reduce these ratings. Do not use for lifting over people.
For technical drawings and 3-D models, click on a part number.
Max.




Pull,




lbs.

Lg.

Wd.

Ht.

Lg.

Wd.

Ht.

Handle


Lg.

Case
Material
Fasteners
Included
Hole
Thread
Size

Hole


Dp.




(Number of Holes)

Hole


Center-to-Center




Lg.

Hole


Center-to-Center




Wd.

Each
150
2"
1

3/4

"

5/8

"
1

1/4

"
1

9/16

"
1

3/16

"
1

5/16

"
Steel
No
M6

3/8

" (2)
1

3/16

"
__
0000000
0000000
235
2

9/16

"
2

3/8

"

11/16

"
1

5/8

"
2

3/16

"
1

1/16

"
1

1/2

"
Steel
No
M6

5/16

" (2);

1/4

" (1)

9/16

"
__
0000000
000000
245
3

15/16

"
2

1/2

"

7/8

"
2

13/16

"
2"

7/8

"
2"
Steel
No
M6

3/8

" (4)

7/8

"
1

13/16

"
0000000
000000
400
2

9/16

"
2

3/8

"

11/16

"
1

5/8

"
2

1/2

"
1

7/8

"
2

3/8

"
Steel
No
M6

5/16

" (3)

9/16

"
__
0000000
000000
600
3

15/16

"
2

1/2

"

7/8

"
2

15/16

"
2"
1

15/16

"
2"
Steel
No
M6

3/8

" (4)

7/8

"
1

13/16

"
0000000
000000