Robot Tool Mounts for
T-Slotted

Framing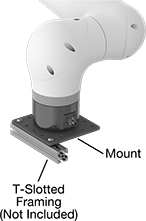 Connect your robot arm to tools or extensions made from T-slotted framing. These mounts are often used to support custom tools for uniquely shaped items, such as a rig to lift chairs off of a line, or as a mounting base for a screwdriver. They use ISO mounting patterns, an industry standard for arm connections. These mounts are made of aluminum, so they're corrosion resistant, lightweight, and machinable. The lightness helps you keep robot arms under their payload, or weight limit, and the machinability means you can drill your own holes. Mounts come with all the hardware needed to connect them to robot arms, but not the bolts required to connect T-slotted framing to the mounts. If you don't see your robot model number listed, measure the bolt circle diameter to determine mounting compatibility.
Round mounts are compatible with several ISO mounting patterns, so they connect to a wide variety of robot arms. They're also lighter and smaller than other mounts, so they fit in tight spaces. However, with only two mounting holes for T-slotted framing, they have fewer attachment options than other mounts.
Square mounts have 16 mounting holes for T-slotted framing, giving you more mounting options than round mounts. They're heavier, however, and take up more space.
L-shaped mounts create a 90° mounting angle, so you can position tools to point down or forward. These mounts are also commonly used to connect tools that don't have standard ISO mounting patterns and can't bolt directly to robot arms.
X-shaped mounts have a broad surface area, spreading out T-slotted framing or robot tools for handling large objects.
Use robot tool mounts (sold separately) with square, L-shaped, and X-shaped mounts for compatibility with different ISO mounting patterns.
For technical drawings and 3-D models, click on a part number.