Blade-Style

High-Voltage

DC Circuit Breakers
Rated to 72V DC, these can handle higher voltages than any other DC circuit breaker we offer. Use these circuit breakers in place of type ATC, AF, ATO, and 257 blade-style fuses to protect against overload and short circuits in low-voltage automotive and electronic applications. All are thermal, so they use the heat generated in overcurrent situations to trip the breaker.
Breakthrough current is the maximum current that the circuit breaker can safely stop in the event of a short circuit.
DIN-rail mount holder is required (sold separately) to mount circuit breakers to DIN-rail.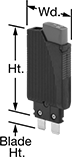 Voltage
Breakthrough Current
Mounting
Location

Ht.

Wd.

Blade


Ht.

Temp.




Range,

°F

Specifications Met

Current, A

Each
72V DC
2,000 A @ 72 V DC
Fuse Block
2.06"
0.96"
0.25"
0° to 140°
CSA Certified, UL Recognized Component, UL 1077

1/4

000000
000000