About
Backflow-Prevention

Valves
Also known as vacuum breakers, these valves have vents that open when pressure drops to relieve vacuum conditions and prevent backward suction from drawing liquid into upstream piping.
Chrome-plated bronze valves are more corrosion resistant than brass valves.
Elbows are designed for intermittent flow. They discharge liquid directly and should not be installed in areas where spillage could cause damage.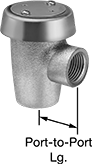 For Use

With:

Water
Seal

Material:

Silicone Rubber
Pipe
Size

Max.

Pressure
Temperature


Range,

°F

Port-to-Port




Lg.

Each

NPT Female Inlet × NPT Female Outlet

1/4

125 psi @ 70° F
35° to 180°
1"
0000000
000000

3/8

125 psi @ 70° F
35° to 180°
1"
0000000
00000

1/2

125 psi @ 70° F
35° to 180°
1

1/4

"
0000000
00000

3/4

125 psi @ 70° F
35° to 180°
1

1/2

"
0000000
00000