Food Industry Round Metal Batch Cans
UN-Compliant

Shipping Pails with

Twist-Lock

Lids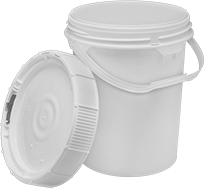 With Bail Handle
These pails have a twist-lock lid that opens and closes without tools and provides a more secure seal than a snap-lock lid.
Pails with a drip-free pouring lip have a solid rim for a clean, controlled pour.
Neoprene seals provide an extra-tight closure in the lid.
Open pails for hazardous solids by squeezing the release and turning the lid.
Cap.,




gal.

Dia.

Ht.

Color
Seal Material
Handle
Type
Features

Max.




Temp.,

°F

Shipping
Standard
Lid
Color
Each

For Shipping Hazardous Solids

Polyethylene Plastic

1/2

7"
7

3/8

"
White
Neoprene Rubber
Bail
Drip-Free Pouring Lip
150°
UN1H2/Y4/S
White
00000000
00000