How to

Identify and Measure Fittings
Pipe size is an industry designation, not the actual size. View information about how to measure threaded and unthreaded pipe and pipe fittings.
Vibration-Resistant

Compression Fittings for Stainless Steel Tubing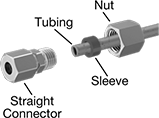 For Use

With:

Acetylene,

Air,

Butane,

Compressed

Air,

Cutting

Oil,

Diesel

Fuel,

Fuel

Oil,

Gasoline,

Helium,

Hydraulic Fluid

(Petroleum

Base),

Kerosene,

Mineral

Oil,

Natural

Gas,

Nitrogen,

Propane,

Soap Solutions
Temperature

Range:

-10° to 400° F

Tubing:

Use with seamless 316Ti or 321 stainless steel
Specifications

Met:

DIN 3861
Instead of a metal sleeve (ferrule), these fittings have a rubber sleeve that cushions tubing and absorbs vibration to maintain a tight seal, even when connected to large pumps. However, rubber sleeves can't withstand temperatures as high as metal ones. To create the strong seal, tighten the included nut. These fittings are made of 316 stainless steel, so they have excellent corrosion resistance. They're also known as flareless fittings. All meet DIN 3861, which is an international standard for compression tube fitting specifications.
For technical drawings and 3-D models, click on a part number.
Through-Wall Straight Connectors, Tube

Through-Wall
Connectors,
Tube
Through-wall fittings are also known as bulkhead couplings and panel-mount couplings; they mount through your wall or panel to create an inlet or outlet.
OD,


mm
Wall


Thickness,

mm
Material
Maximum Pressure
For Hole


Diameter,

mm
For Maximum Wall


Thickness,

mm
Each
6
1
316 Stainless Steel
4,500 psi @ 72° F
12
16
00000000
000000
10
1
316 Stainless Steel
4,500 psi @ 72° F
16
16
00000000
00000
12
1.5
316 Stainless Steel
4,500 psi @ 72° F
18
16
00000000
000000
15
1.5
316 Stainless Steel
4,500 psi @ 72° F
22
16
00000000
000000
18
2
316 Stainless Steel
4,500 psi @ 72° F
26
16
00000000
000000
22
2.5
316 Stainless Steel
2,300 psi @ 72° F
30
16
00000000
000000
28
2.5
316 Stainless Steel
2,300 psi @ 72° F
36
16
00000000
000000
35
3
316 Stainless Steel
2,300 psi @ 72° F
45
16
00000000
000000
42
3.5
316 Stainless Steel
2,300 psi @ 72° F
52
16
00000000
000000

Nut
OD,


mm
Wall


Thickness,

mm
Nut Material
Maximum Pressure
Each
6
1
316 Stainless Steel
4,500 psi @ 72° F
00000000
000000
10
1
316 Stainless Steel
4,500 psi @ 72° F
00000000
00000
12
1.5
316 Stainless Steel
4,500 psi @ 72° F
00000000
00000
15
1.5
316 Stainless Steel
4,500 psi @ 72° F
00000000
00000
18
2
316 Stainless Steel
4,500 psi @ 72° F
00000000
00000
22
2.5
316 Stainless Steel
2,300 psi @ 72° F
00000000
00000
28
2.5
316 Stainless Steel
2,300 psi @ 72° F
00000000
000000
35
3
316 Stainless Steel
2,300 psi @ 72° F
00000000
000000
42
3.5
316 Stainless Steel
2,300 psi @ 72° F
00000000
000000