About Industry Designation for Cable Insulation
Pin-and-Sleeve

Power Cords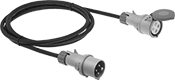 For use with high-current equipment, these cords are compatible with IEC 60309 connectors and devices. The industry designation is SJOOW, so the inner and outer insulation resists oil. Cords are UL Listed, while sockets are C-UL Listed to meet American and Canadian safety standards.
Cords with IP44 rated sockets withstand splashing water.
Cords with IP67 rated sockets withstand temporary submersion.
Electrical
Phase

No.


of
Poles

No.

of
Ground
Connections

Lg.,




ft.

Current,


A
Voltage
Wire
Gauge
OD
Insulation
Material
Industry
Designation

Temp.




Range,




°F

Specifications
Met
Color
Each

Plug × IP44 Rated Sockets

Single
2
1
10
20
125V AC
12
0.43"
Rubber
3W2P, SJOOW
-10° to 120°
IEC 60309-1, IEC 60309-2, UL Listed, C-UL Listed
Gray
000000000
0000000
Single
2
1
10
30
125V AC
10
0.58"
Rubber
3W2P, SJOOW
-10° to 120°
IEC 60309-1, IEC 60309-2, UL Listed, C-UL Listed
Gray
000000000
000000
Single
2
1
20
20
125V AC
12
0.43"
Rubber
3W2P, SJOOW
-10° to 120°
IEC 60309-1, IEC 60309-2, UL Listed, C-UL Listed
Gray
000000000
000000
Single
2
1
20
30
125V AC
10
0.58"
Rubber
3W2P, SJOOW
-10° to 120°
IEC 60309-1, IEC 60309-2, UL Listed, C-UL Listed
Gray
000000000
000000

Plug × IP67 Rated Sockets

Single
2
1
10
20
125V AC
12
0.43"
Rubber
3W2P, SJOOW
-10° to 120°
IEC 60309-1, IEC 60309-2, UL Listed, C-UL Listed
Gray
000000000
000000
Single
2
1
10
30
125V AC
10
0.58"
Rubber
3W2P, SJOOW
-10° to 120°
IEC 60309-1, IEC 60309-2, UL Listed, C-UL Listed
Gray
000000000
000000
Single
2
1
20
20
125V AC
12
0.43"
Rubber
3W2P, SJOOW
-10° to 120°
IEC 60309-1, IEC 60309-2, UL Listed, C-UL Listed
Gray
000000000
000000
Single
2
1
20
30
125V AC
10
0.58"
Rubber
3W2P, SJOOW
-10° to 120°
IEC 60309-1, IEC 60309-2, UL Listed, C-UL Listed
Gray
000000000
000000