About NEMA
Plugs,

Sockets,

and Receptacles

1

2

3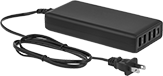 10

15

16

Power up mobile devices and other electronics.
Unlike many chargers in the market, these are high quality and reliable. All have passed strict U.S., Canadian, or European Union safety standards. Some of these chargers even have an LPS output, so if something fails inside the charger, it limits the risk of electrical shock. Most of our wall chargers also meet standards for energy efficiency when they're in-use, as well as when they're plugged in but not charging. Chargers that use switching regulation produce the stated voltage despite fluctuations in your outlet's power and the power being drawn by your device. It also means they won't get too hot.
USB-C chargers are quickly becoming the new standard, often seen on new phones and tablets. Some are USB-C Power Delivery 3.0 certified, so they charge your devices on average 3-4 times faster than standard chargers because they send more power over your cable. 18W chargers will power phones and tablets sold after 2016. 27W chargers will power small laptops. Choose chargers with an output greater than 27W to charge large laptops and other high-power devices.
USB-A chargers have the traditional USB connection. 18W chargers will power phones and tablets sold after 2016.
Chargers cannot be sold to the listed areas due to energy efficiency regulations.
USB Connection
Type


(Number of Ports)

Power
Voltage
Input
Voltage
Voltage
Cord


Length,




ft.

Low-Voltage


Output
Type
Regulation
Type
Shock
Protection
Class
Specifications
Met
Certification
Cannot
Be
Sold To
Each

Straight-Blade

NEMA

1-15

Plug

1
C (1)
18W
5V DC, 9V DC, 12V DC, 15V DC
100V AC-240V AC
__
__
__
Switching
II
UL Listed, C-UL Listed, DOE Level VI Efficiency, EU CoC Tier 2 Efficiency, USB-C Power Delivery 3.0 Certified, UL 2089
__
__
0000000
000000
1
C (1)
27W
5V DC, 9V DC, 12V DC, 15V DC
100V AC-240V AC
__
__
LPS
Switching
II
UL Listed, C-UL Listed, DOE Level VI Efficiency, EU CoC Tier 2 Efficiency, USB-C Power Delivery 3.0 Certified, UL 2089
__
__
0000000
00000
2
C (1)
60W
5V DC, 9V DC, 15V DC, 20V DC
100V AC-240V AC
__
__
__
__
__
USB-C Power Delivery 3.0 Certified
UL Listed
Canada
0000000
00000
3
C (1)
100W
5V DC, 9V DC, 15V DC, 20V DC
100V AC-240V AC
__
__
LPS
__
__
ISO 9001, DOE Level VI Efficiency, USB-C Power Delivery 3.0 Certified
UL Listed
Canada
0000000
00000
10
C (1)

A (4)

86W

12W

5V DC, 9V DC, 12V DC, 15V DC, 20V DC

5V DC

100V AC-240V AC
__
4
__
__
__
USB-C Power Delivery 3.0 Certified
C-UL Listed, UL Listed
Canada
0000000
000000

Vehicle Plug

15
C (1)

A (1)

60W

18W

5V DC, 9V DC, 12V DC, 15V DC, 20V DC

5V DC, 9V DC, 12V DC

__
12V DC
__
__
__
__
CE Marked, USB-C Power Delivery 3.0 Certified
__
__
0000000
00000
16
C (1)

A (2)

18W

18W

5V DC, 9V DC

5V DC, 9V DC, 12V DC

__
12V DC
__
__
__
__
CE Marked, USB-C Power Delivery 3.0 Certified
__
__
0000000
00000