About Choosing the Proper Size Garbage Bags
Metal Waste Containers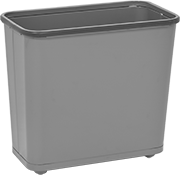 B
Styles A and B have a raised bottom to insulate and protect floors from heat transfer. Style B won't mark walls or floors.
Style

Capacity,




gal.

Wd.

Dp.

Ht.

Circumference
Material
Features
Color
Each
B
22
20

3/4

"
11"
29

1/2

"
63"
Steel
Raised Bottom
Black
0000000
0000000
Static-Control

Waste Containers
Safely dispose of static-charged waste. When placed on a grounded floor, these containers drain static charges from the waste into the floor. With their charge removed, waste won't spark and ignite flammable chemicals or damage sensitive electronics, even if you tip the container over accidentally. The conductivity of these containers also won't fade over time. All have an electrostatic discharge symbol on the side, so it's clear what to drop in them. If you line these containers with garbage bags, use static-control garbage bags or the charge won't drain properly.
Since they meet ANSI and IEC standards for protection from electrostatic discharge, these containers are approved for use in ESD control programs in the U.S. and Europe.
Static-control dollies lock onto 44-gal. containers for mobility. Two of the five casters are conductive, so static transfers through them when used on a grounded floor.
Rectangular Stainless Steel Batch Cans
Rectangular Plastic Batch Cans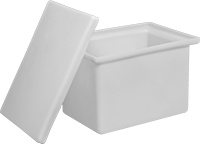 These batch cans come with loose fitting dust covers to protect contents from dust and debris.
Capacity,




gal.

Wd.

Dp.

Ht.

Wd.

Dp.

Thick.

Color
Clarity
Lid
Type

Max.




Temp.,




°F

Space
Saving
Features
Features
Each

Polyethylene Plastic

22
27

3/4

"
16"
19

3/4

"
24"
12"

1/4

"
White
Semi-Clear
Loose Fitting
140°
Stackable
Seamless
0000000
0000000