About Choosing the Proper Size Garbage Bags
Decorative Outdoor Waste Containers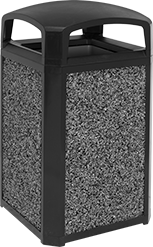 C
Style C has a hooded lid for protection against wind, rain, and snow. The lid hinges open for quick waste removal. The container has a dent- and chip-resistant frame with decorative stone panels.
Plastic Frame with Stone Panels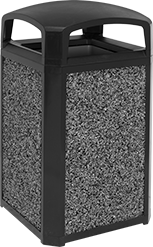 C
Style

Capacity,




gal.

Wd.

Dp.

Ht.

Circumference
Features
Panel Color
Each

Dark Brown Frame

C
35
26"
26"
40"
104"
Removable Plastic Liner
Light Brown
00000000
000000000
Mobile Waste Containers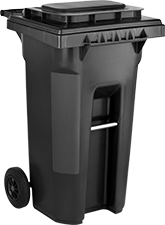 B
Wheel away waste in these large-capacity containers. Made of seamless heavy duty plastic, they resist cracks, dents, and leaks.
Style B work with automated collection systems.
Rectangular Stainless Steel Batch Cans
Batch cans with drain have a drain centered on the bottom of the can.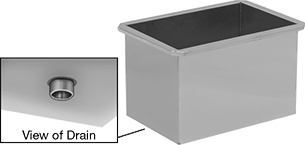 Batch Can with Drain
Food Industry Stainless Steel Drums
In addition to being corrosion resistant, these drums have smooth, welded seams to prevent food and chemicals from collecting in crevices.
Drums with a reinforced top rim are strengthened with a rod.
Garbage Bags with Twist Ties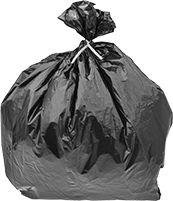 Bags with Twist Ties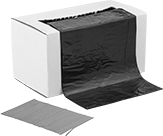 Bags with Dispenser and Twist Ties
These bags are designed to resist tears and punctures by stretching around items with sharp edges.
Bags with Dispenser
and Twist Ties

Capacity,




gal.

Circumference

Ht.

Wd.

Thick.,


mil
Material
Choose
a Color

Pkg.




Qty.

Pkg.

Pkg.




Qty.

Pkg.

Standard Duty

35
71"
45"
35

1/2

"
1
Plastic
Black, Clear
200
00000000
000000
50
00000000
000000
35
71

1/2

"
40"
35

3/4

"
1.2
Plastic
Black, Clear
200
0000000
00000
__
000000
00
35
74"
43"
37"
1.2
Plastic
Black, Clear
200
0000000
00000
__
000000
00

Heavy Duty

35
52"
48"
26"
1.5
Plastic
Black, Clear
100
0000000
00000
50
00000000
00000
35
81"
43"
40

1/2

"
1.5
Plastic
Black, Clear
200
0000000
000000
__
000000
00
35
81"
43"
40

1/2

"
1.5
Plastic
Black
__
000000
00
50
00000000
00000

Extra Heavy Duty

35
81"
43"
40

1/2

"
3
Plastic
Black, Clear
100
0000000
000000
25
00000000
00000