Heavy Duty Plastic Waste Containers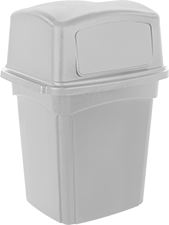 Rectangular
Often used in high-traffic environments, such as parking lots and cafeterias, these waste containers are dent resistant. They are designed to extinguish internal fires.
Rectangular waste containers have a hinged lid with two push doors.
Decorative Outdoor
Dual-Compartment

Waste and Recycling Containers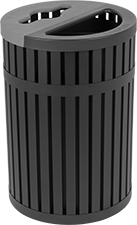 A
Made of durable steel, these dual-compartment containers resist sunlight, ozone, and water. With a single bin housing one side for waste and one side for recyclables, you won't have to spend time sorting discarded materials. Each compartment has a removable liner with handles, making it easy to empty the compartments individually. Use the bag-securing clips to attach the garbage bags to the liners. They help keep the garbage bags in place and out of sight. All containers have cables to secure the lids and anchoring hardware to bolt the container down for added stability.
Style A containers have raised lettering and black and blue colors to label each compartment.
Style

Capacity,




gal.

Height
Diameter
Material
Color
Includes
Features
Specifications
Met
Each
A
45
34"
23

1/4

"
Steel
Black, Blue
Anchor Kit, Lid-Securing Cable, Two Removable Steel Liners with Handles
Bag-Securing Clip
ADA Compliant
0000000
0000000
Food Industry Round Plastic Batch Cans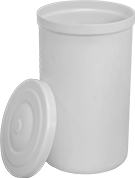 These plastic batch cans meet NSF/ANSI 2 sanitary standards for food environments.
Cap.,




gal.

Dia.

Ht.

Bottom
ID

Thick.

Color
Clarity
Lid
Type

Max.




Temp.,




°F

Space
Saving
Features
Specifications
Met
Features
Each

Polyethylene Plastic

45
19"
43"
18

1/4

"

1/8

"
White
Semi-Clear
Loose Fitting
190°
Stackable
NSF/ANSI 2

Seamless
0000000
0000000
Round Plastic Batch Cans with Faucet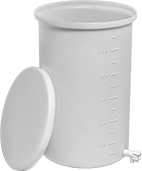 A built-in faucet allows easy dispensing.
Cap.,




gal.

Dia.

Ht.

Bottom
ID

Thick.

Color
Clarity
Lid
Type
Faucet
Material
Seal
Material

Max.




Temp.,




°F

Space
Saving
Features
Features
Each

Polyethylene Plastic

45
24"
31

1/2

"
20

1/4

"

3/16

"
White
Semi-Clear
Loose Fitting
Polypropylene Plastic
EPDM Rubber
135°
Stackable
Seamless
0000000
0000000
Food Industry Round Plastic Batch Cans with Faucet
Capacity,




gal.

Dia.

Ht.

Bottom
ID

Thick.

Color
Clarity
Lid
Type
Faucet
Material
Seal
Material

Max.




Temp.,




°F

Space
Saving
Features
Specifications
Met
Features
Each

Polyethylene Plastic

45
19"
43"
18

1/4

"

1/8

"
White
Semi-Clear
Loose Fitting
PVC Plastic
EPDM Rubber
150°
Stackable
NSF/ANSI 2

Seamless
0000000
0000000
High-Temperature

Rectangular Plastic Batch Cans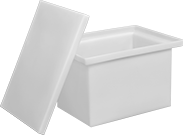 Capacity,




gal.

Wd.

Dp.

Ht.

Wd.

Dp.

Thick.

Color
Clarity
Lid
Type

Max.




Temp.,




°F

Space
Saving
Features
Features
Each

Polypropylene Plastic

45
26

3/4

"
20

3/4

"
25

1/2

"
24"
18"

1/4

"
White
Semi-Clear
Loose Fitting
220°
Stackable
Seamless
0000000
0000000