Rectangular Plastic Batch Cans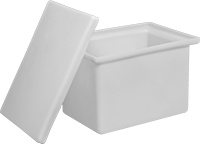 Capacity,




gal.

Wd.

Dp.

Ht.

Wd.

Dp.

Thick.

Color
Clarity
Lid
Type

Max.




Temp.,




°F

Space
Saving
Features
Features
Each

Polyethylene Plastic

60
40"
22

1/2

"
22"
36"
20"

3/16

"
Yellow
Semi-Clear
Loose Fitting
140°
Stackable
Seamless
0000000
0000000
High-Temperature

Rectangular Plastic Batch Cans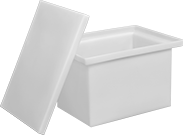 Capacity,




gal.

Wd.

Dp.

Ht.

Wd.

Dp.

Thick.

Color
Clarity
Lid
Type

Max.




Temp.,




°F

Space
Saving
Features
Features
Each

Polypropylene Plastic

60
39

1/2

"
23"
22

1/4

"
36"
20"

5/16

"
White
Semi-Clear
Loose Fitting
220°
Stackable
Seamless
0000000
0000000
Food Industry Stainless Steel Drums
In addition to being corrosion resistant, these drums have smooth, welded seams to prevent food and chemicals from collecting in crevices.
Drums with a reinforced top rim are strengthened with a rod.
Open Head with Handles—Reinforced Top Rim
Galvanized Steel Tubs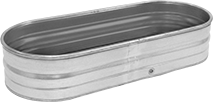 E
Tubs are made of galvanized steel for corrosion resistance.
For technical drawings and 3-D models, click on a part number.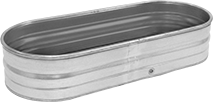 E
Capacity,




gal.

Wd.

Dp.

Ht.

Wd.

Dp.

Gauge
Pipe Size
Gender
Material
Includes
Each

Galvanized Steel

E
60
62"
26"
11

1/2

"
59

3/4

"
23

1/2

"
22

3/4

NPT
Female
Brass
Steel Drain Plug
0000000
0000000