Tins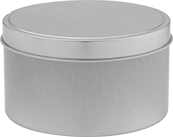 Cap.

Dia.

Ht.

Type
Material
Features

Pkg.




Qty.

Pkg.

Steel

8 oz.
4"
1

1/8

"
Tight Fitting
Steel
Seamless
1
0000000
00000

Steel Handle

Wood Handle
Metal Bottles

C
Aluminum bottles are more corrosion resistant than tin-plated steel.

C
oz.

ml

Dia.

Ht.

OD
ID
Type
Material
Color
Seal
Material
Autoclavable
Each

Aluminum

8
235
2"
7

1/4

"
1"

1/2

"
Threaded
Polypropylene Plastic
White
Polyethylene Foam
No
0000000
00000
Aerosol Sprayers
Fill the reservoir, attach the propellant cartridge, and spray. Plastic sprayer sprays up to 18 oz. with the included propellant.
Spray Bottles
D
Spray liquids with these fillable bottles—the head twists on and off to make filling easy.
Clear and semi-clear bottles let you keep an eye on the liquid level.

Semi-Clear
Polyethylene
Plastic Dispenser

Replacement Stem
Moisten swabs and wipes by pushing down on the top.
Dispensers with locking cap prevent spills.
Static Control
Push-Top

Dispensers

A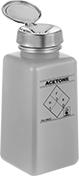 An additive prevents electrostatic discharge from building up on the surface of this dispenser.
Contents
Message
Electrical
Properties
Surface


Resistivity,




ohms/sq.

Cap.,




oz.

Wd.

Dp.

Ht.

Dish


Dia.

Color
Pump
Material
Each

Opaque Polyethylene Plastic

A
__
Static Dissipative
104-1011
8
2

1/8

"
2

1/8

"
5"
1

1/2

"
Blue
303 Stainless Steel
0000000
000000
F
Acetone
Static Dissipative
104-1011
8
2

1/8

"
2

1/8

"
5"
1

1/2

"
Blue
303 Stainless Steel
0000000
00000
F
Isopropanol
Static Dissipative
104-1011
8
2

1/8

"
2

1/8

"
5"
1

1/2

"
Blue
303 Stainless Steel
0000000
00000
Push-to-Dispense

Bottles for Flammable Liquids