Cellular Phone Signal Boosters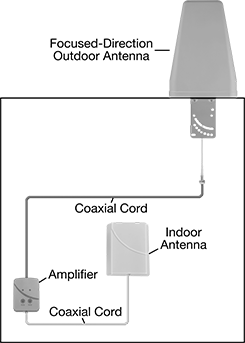 Focused-Direction
Outdoor Antenna
Amplify weak cellular signals, resulting in fewer dropped calls and faster download speeds. Mount the indoor antenna to a wall or ceiling; mount the outdoor antenna to the roof or a wall. These boosters work best with an unobstructed path pointing to the nearest cell tower. They're compatible with all U.S. cellular networks. They cannot be sold to Canada due to product registration requirements.
Antenna
Type
For Telephone
Network System

Max.




Gain,

dB
Plug Type
Cord


Lg.,




ft.

Voltage
Mounting
Hardware
Included
Includes
Cannot
Be
Sold To
Each
Focused Direction
5G
65
Two Prong
6
120V AC
Yes
Indoor Antenna, Outdoor Antenna, Two RG Coaxial Cords (15 ft. Lg. Each), Power Supply, Amplifier (6

1/2

" Ht. x 6" Wd. x 2

5/8

" Dp.)
Canada
0000000
0000000
Mount on the outside of a vehicle for better radio reception.
Mount
Type

Ht.

Cable


Lg.,

ft.

Material
Includes
Each
Magnet
35"
15
Stainless Steel
Antenna, Magnetic Base, Coaxial Cable
00000000
000000