About Structural Adhesives
Construction Adhesives for Flooring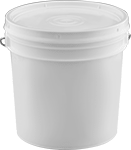 Bond carpeting, vinyl tile, and other floor coverings to subfloors with these water-resistant adhesives.
Size
Type
Approximate
Coverage
Begins
to
Harden
Reaches
Full
Strength
Shear
Peel
Consistency

Temp.




Range,




°F

Color
For
Use
Outdoors
For
Joining
Each
1 gal.
Pail
33 sq. ft. @

1/8

" bead
15 min.
24 hrs.
Not Rated
Not Rated
Thick Liquid
65° to 85°
Beige
No
Plastic, Wood
00000000
000000
Pressure-Sensitive

Spray Adhesives

For easy positioning, this adhesive remains tacky for hours. Once items are in place, apply pressure to create a permanent bond. The blue color shows where adhesive has been applied. They cannot be sold to California due to local regulatory limits on VOCs (volatile organic compounds).

Certificates with a traceable lot number and product shelf life are available for these products. Download certificates from ORDER HISTORY after your order ships.
Mfr.


Model


No.

Container
Net


Weight,

oz.

Approximate
Coverage
Begins
to
Harden
Reaches
Full
Strength
Shear
Strength

Max.




Temp.,




° F

Color
For
Joining
Cannot
Be
Sold To

1-11

12-Up

3M Adhesives

72
17.3
27 sq. ft. @ 2.5 gm/ft²
60 sec.
24 hrs.
Not Rated
120°
Blue
Composites, Foam, Metal, Plastic, Rubber, Wood
CA
0000000
000000
000000