T-Slotted

Framing Mounting Feet and Casters
Add mounting feet and casters to T-slotted framing structures to level equipment, anchor legs to the floor, or add mobility.
For technical drawings and 3-D models, click on a part number.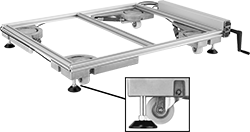 Hydraulic Lift Caster
Hydraulic lift casters allow you to move heavy equipment, then set it in place on leveling feet. To use, mount the casters and pump on T-slotted framing and connect the casters to the pump with the included tubing. Use the hand crank to raise and lower the casters.
Single

Double,


Quad
Triple

Lg.

Wd.

Cap.,




lbs.

Color
Material

Dia.

Material
Includes
Each
1

1/2

"
40mm
45mm
3"
80mm
90mm
4

1/2

"
18

3/4

"
9

7/8

"
4,400
Silver
Aluminum
3

1/8

"
Plastic
4 Swivel Casters, Hydraulic Pump with Hand Crank, Hydraulic Tubing
00000000
000000000