Cut-to-Width

Polyurethane Wheels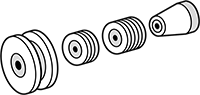 Machinable to fit many applications
Make your own wheels by cutting these wheel blanks to size with a band saw. They're easy to machine so you can create V-groove and flanged wheels, as well as conveyor rollers and pulleys. Wheels are polyurethane, which combines the abrasion resistance of plastic with the shock-absorbing qualities of rubber. They have a core that is harder than the tread, balancing strength with cushioning. Use them on smooth or rough floors and in areas with debris.
Note: Do not cut with a circular saw.
For technical drawings and 3-D models, click on a part number.
Wheel


Dia.

Lg.

Nonmarking
Wheels
Style
Material

Temp.




Range,




°F

For
Axle


Dia.

Choose
a
Hardness
Each

Without Bearings

1

1/2

"
20"
Yes
Solid
Polyurethane Rubber
-60° to 200°

3/8

"
0000000
0000000
1

1/2

"
20"
Yes
Solid
Polyurethane Rubber
-60° to 200°

1/2

"
0000000
000000
2"
20"
Yes
Solid
Polyurethane Rubber
-60° to 200°

3/8

"
0000000
000000
2"
20"
Yes
Solid
Polyurethane Rubber
-60° to 200°

1/2

"
0000000
000000
2"
20"
Yes
Solid
Polyurethane Rubber
-60° to 200°

5/8

"
0000000
000000
2"
20"
Yes
Solid
Polyurethane Rubber
-60° to 200°

3/4

"
0000000
000000
2

1/2

"
20"
Yes
Solid
Polyurethane Rubber
-60° to 200°

1/2

"
0000000
000000
2

1/2

"
20"
Yes
Solid
Polyurethane Rubber
-60° to 200°

3/4

"
0000000
000000
3"
20"
Yes
Solid
Polyurethane Rubber
-60° to 200°

1/2

"
0000000
000000
3"
20"
Yes
Solid
Polyurethane Rubber
-60° to 200°

5/8

"
0000000
000000
3"
20"
Yes
Solid
Polyurethane Rubber
-60° to 200°

3/4

"
0000000
000000
4"
20"
Yes
Solid
Polyurethane Rubber
-60° to 200°

1/2

"
0000000
000000
4"
20"
Yes
Solid
Polyurethane Rubber
-60° to 200°

3/4

"
0000000
000000
5"
20"
Yes
Solid
Polyurethane Rubber
-60° to 200°
1"
0000000
000000