Easy-Turn

Leveling Plate Casters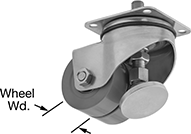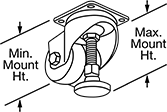 The dual-wheel design of these casters provides better load distribution and easier turning than other leveling casters. Turn the nut to adjust the leveling pad to keep your equipment stationary and compensate for uneven floors. Casters have sealed double-ball bearings for the smoothest swiveling and protection from dust and debris.
Phenolic wheels are nonmarking and perform well at high temperatures. They roll best on smooth surfaces. Polyurethane wheels combine the abrasion resistance of plastic with the shock-absorbing qualities of rubber. Use them on smooth or rough floors and in areas with debris.
Wheels with sealed ball bearings are smooth rolling and have the best protection against dust and debris.
For technical drawings and 3-D models, click on a part number.
Mounting
Hole


Ctr.-to-Ctr.

Dia.

Wd.

Mount


Ht.

Cap.

per


Caster,




lbs.

Hardness
Mechanism
Nut
Thread
Size

Lg.

Wd.

Lg.

Wd.

For
Screw
Size

Type
Seal
Type
Frame
Material
Each

Nonmarking Black Solid Phenolic Plastic

Wheels—

Hard

2

1/2

"
1"
3

3/8

"-4

3/8

"
500
Durometer 95D
Nut

1/2

"-13

3"
3"
2

3/8

"
2

3/8

"

5/16

"

Without Bearing
__
301 Stainless Steel
0000000
0000000
3"
1

1/4

"
4

1/8

"-5

1/8

"
800
Durometer 95D
Nut

5/8

"-11

3

7/8

"
3

7/8

"
3"
3"

3/8

"

Without Bearing
__
301 Stainless Steel
0000000
000000

Nonmarking Blue Solid Polyurethane Rubber

Wheels—

Hard

2

1/2

"
1"
3

3/8

"-4

3/8

"
500
Durometer 75D
Nut

1/2

"-13

3"
3"
2

3/8

"
2

3/8

"

5/16

"

Ball
Sealed
301 Stainless Steel
0000000
000000
3"
1

1/4

"
4

1/8

"-5

1/8

"
1,000
Durometer 75D
Nut

5/8

"-11

3

7/8

"
3

7/8

"
3"
3"

3/8

"

Ball
Sealed
301 Stainless Steel
0000000
000000