High-Capacity

Ultra-High-Temperature

Casters with Metal Wheels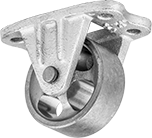 Rigid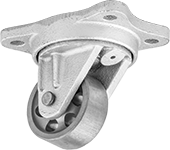 Swivel

Rigid Mounting Plate

Swivel Mounting Plate
Withstanding temperatures up to 1600° F, these are the most heat-resistant casters we offer. Their iron wheels offer the strength and wear resistance you need for heavy loads and long life. They roll best on smooth surfaces.
Wheels ride directly on the axle rather than on bearings, making these casters an economical choice for equipment that is not frequently moved.
Swivel casters have double-ball bearings for the smoothest swiveling.
For technical drawings and 3-D models, click on a part number.