High-Capacity

Washdown Casters with Phenolic Wheels

Rigid

Swivel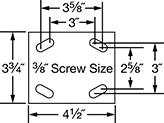 A stainless steel frame and rust-resistant bearings make these casters good options for food-service equipment that's frequently washed down. They also meet NSF/ANSI 2 standards for food equipment. The phenolic wheels are nonmarking and roll best on smooth surfaces.
316 stainless steel frames are more corrosion resistant than 304 stainless steel frames.
Sleeve wheel bearings prevent wear to the wheel bore but don't roll as easily as other bearings. Roller wheel bearings provide smoother rolling than sleeve bearings.
Swivel casters have completely sealed double-ball bearings for the smoothest swiveling and the best protection against dust and debris.
Add optional wheel brakes to swivel casters to prevent the caster from rolling. To install, replace the wheel's existing bushing with the brake bushing and position the brake pedal so it is parallel to the ground.
For technical drawings and 3-D models, click on a part number.
Dia.

Wd.

Mount


Ht.

Cap.

per


Caster,

lbs.

Type
Material
Frame Material
Specifications
Met
Each

Rigid

Nonmarking Black Solid

Wheels—

Hard

(Durometer 90D)

4"
2"
5

5/8

"
800
Sleeve
Acetal Plastic
304 Stainless Steel
NSF/ANSI 2

00000000
000000
4"
2"
5

5/8

"
800
Sleeve
Acetal Plastic
316 Stainless Steel
NSF/ANSI 2

00000000
00000
4"
2"
5

5/8

"
800
Roller
Stainless Steel
304 Stainless Steel
NSF/ANSI 2

00000000
00000
4"
2"
5

5/8

"
800
Roller
Stainless Steel
316 Stainless Steel
NSF/ANSI 2

00000000
00000
5"
2"
6

1/2

"
1,000
Sleeve
Acetal Plastic
304 Stainless Steel
NSF/ANSI 2

00000000
00000
5"
2"
6

1/2

"
1,000
Sleeve
Acetal Plastic
316 Stainless Steel
NSF/ANSI 2

00000000
00000
5"
2"
6

1/2

"
1,000
Roller
Stainless Steel
304 Stainless Steel
NSF/ANSI 2

00000000
00000
5"
2"
6

1/2

"
1,000
Roller
Stainless Steel
316 Stainless Steel
NSF/ANSI 2

00000000
00000
6"
2"
7

1/2

"
1,000
Sleeve
Acetal Plastic
304 Stainless Steel
NSF/ANSI 2

00000000
00000
6"
2"
7

1/2

"
1,000
Sleeve
Acetal Plastic
316 Stainless Steel
NSF/ANSI 2

00000000
00000
6"
2"
7

1/2

"
1,000
Roller
Stainless Steel
304 Stainless Steel
NSF/ANSI 2

00000000
00000
6"
2"
7

1/2

"
1,000
Roller
Stainless Steel
316 Stainless Steel
NSF/ANSI 2

00000000
00000
8"
2"
9

1/2

"
1,000
Roller
Stainless Steel
304 Stainless Steel
NSF/ANSI 2

00000000
00000
8"
2"
9

1/2

"
1,000
Roller
Stainless Steel
316 Stainless Steel
NSF/ANSI 2

00000000
000000

Swivel

Nonmarking Black Solid

Wheels—

Hard

(Durometer 90D)

4"
2"
5

5/8

"
800
Sleeve
Acetal Plastic
304 Stainless Steel
NSF/ANSI 2

00000000
000000
4"
2"
5

5/8

"
800
Sleeve
Acetal Plastic
316 Stainless Steel
NSF/ANSI 2

00000000
000000
4"
2"
5

5/8

"
800
Roller
Stainless Steel
304 Stainless Steel
NSF/ANSI 2

00000000
000000
4"
2"
5

5/8

"
800
Roller
Stainless Steel
316 Stainless Steel
NSF/ANSI 2

00000000
000000
5"
2"
6

1/2

"
1,000
Sleeve
Acetal Plastic
304 Stainless Steel
NSF/ANSI 2

00000000
000000
5"
2"
6

1/2

"
1,000
Sleeve
Acetal Plastic
316 Stainless Steel
NSF/ANSI 2

00000000
000000
5"
2"
6

1/2

"
1,000
Roller
Stainless Steel
304 Stainless Steel
NSF/ANSI 2

00000000
000000
5"
2"
6

1/2

"
1,000
Roller
Stainless Steel
316 Stainless Steel
NSF/ANSI 2

00000000
000000
6"
2"
7

1/2

"
1,000
Sleeve
Acetal Plastic
304 Stainless Steel
NSF/ANSI 2

00000000
000000
6"
2"
7

1/2

"
1,000
Sleeve
Acetal Plastic
316 Stainless Steel
NSF/ANSI 2

00000000
000000
6"
2"
7

1/2

"
1,000
Roller
Stainless Steel
304 Stainless Steel
NSF/ANSI 2

00000000
000000
6"
2"
7

1/2

"
1,000
Roller
Stainless Steel
316 Stainless Steel
NSF/ANSI 2

00000000
000000
8"
2"
9

1/2

"
1,000
Roller
Stainless Steel
304 Stainless Steel
NSF/ANSI 2

00000000
000000
8"
2"
9

1/2

"
1,000
Roller
Stainless Steel
316 Stainless Steel
NSF/ANSI 2

00000000
000000
| | | | |
| --- | --- | --- | --- |
| Optional Wheel Brake for Swivel Casters | 00000000 | Each | 000000 |