Low-Profile

Threaded-Stem

Casters with Polypropylene Wheels

Swivel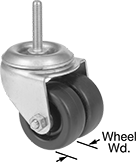 Dual-Wheel
Swivel with Brake

Swivel with Brake
These casters are offered with low mount heights to keep equipment like business machines and display fixtures stable. The lightweight polypropylene wheels are an economical option for smooth surfaces. Flanged-sleeve wheel bearings prevent wear to the wheel bore but don't roll as easily as other bearings. The swivel has double-ball bearings for the smoothest swiveling.
Dual-wheel casters provide better load distribution and easier turning than single-wheel casters.
Casters with wheel brake apply pressure to the wheel to stop movement with a press of the foot pedal.
For technical drawings and 3-D models, click on a part number.
Dia.

Wd.

No.


of
Mount


Ht.

Cap.

per


Caster,




lbs.

Hardness
Stem


Lg.

Type
Seal
Type
Frame
Material
Swivel
Bearing
Type
Each

Swivel

Nonmarking Black Solid

Wheels—

Hard

1

5/8

"

11/16

"
1
2

5/16

"
70
Durometer 70D

1/2

"
Flanged Sleeve
Open
Zinc-Plated Steel
Double Ball
00000000
00000

5/16"-18

Stem Thread Size

Nonmarking Black Solid

Wheels—

Hard

1

5/8

"

11/16

"
1
2

5/16

"
70
Durometer 70D

3/4

"
Flanged Sleeve
Open
Zinc-Plated Steel
Double Ball
00000000
0000
2"

7/8

"
2
2

3/4

"
250
Durometer 70D
1

1/2

"
Flanged Sleeve
Open
Zinc-Plated Steel
Double Ball
00000000
00000
2"
1

3/4

"
1
2

3/4

"
250
Durometer 70D
1

1/2

"
Flanged Sleeve
Open
Zinc-Plated Steel
Double Ball
00000000
00000

3/8"-16

Stem Thread Size

Nonmarking Black Solid

Wheels—

Hard

1

7/16

"
1

11/16

"
1
2

1/8

"
300
Durometer 70D
1

1/2

"
Flanged Sleeve
Open
Zinc-Plated Steel
Double Ball
00000000
0000
2"

13/16

"
1
2

5/8

"
90
Durometer 70D

3/4

"
Flanged Sleeve
Open
Zinc-Plated Steel
Double Ball
00000000
0000
2"

13/16

"
1
2

5/8

"
90
Durometer 70D
1"
Flanged Sleeve
Open
Zinc-Plated Steel
Double Ball
00000000
0000
2"

13/16

"
1
2

5/8

"
90
Durometer 70D
1

1/2

"
Flanged Sleeve
Open
Zinc-Plated Steel
Double Ball
00000000
0000
2"
1

13/16

"
1
2

3/4

"
300
Durometer 70D
1

1/2

"
Flanged Sleeve
Open
Zinc-Plated Steel
Double Ball
00000000
0000

7/16"-14

Stem Thread Size

Nonmarking Black Solid

Wheels—

Hard

2"

7/8

"
2
2

3/4

"
250
Durometer 70D
2

1/2

"
Flanged Sleeve
Open
Zinc-Plated Steel
Double Ball
00000000
00000
2"
1

3/4

"
1
2

3/4

"
250
Durometer 70D
2

1/2

"
Flanged Sleeve
Open
Zinc-Plated Steel
Double Ball
00000000
00000

1/2"-13

Stem Thread Size

Nonmarking Black Solid

Wheels—

Hard

1

7/16

"
1

11/16

"
1
2

1/8

"
300
Durometer 70D
1"
Flanged Sleeve
Open
Zinc-Plated Steel
Double Ball
00000000
0000
1

7/16

"
1

11/16

"
1
2

1/8

"
300
Durometer 70D
1

1/2

"
Flanged Sleeve
Open
Zinc-Plated Steel
Double Ball
00000000
0000
2"

13/16

"
2
2

3/4

"
220
Durometer 70D
1"
Flanged Sleeve
Open
Zinc-Plated Steel
Double Ball
00000000
0000
2"
1

13/16

"
1
2

3/4

"
300
Durometer 70D
1"
Flanged Sleeve
Open
Zinc-Plated Steel
Double Ball
00000000
0000
2"
1

13/16

"
1
2

3/4

"
300
Durometer 70D
1

1/2

"
Flanged Sleeve
Open
Zinc-Plated Steel
Double Ball
00000000
0000

Swivel with Brake

5/16"-18

Stem Thread Size

Nonmarking Black Solid

Wheels—

Hard

2"

7/8

"
2
2

3/4

"
250
Durometer 70D
1

1/2

"
Flanged Sleeve
Open
Zinc-Plated Steel
Double Ball
00000000
00000
2"
1

3/4

"
1
2

3/4

"
250
Durometer 70D
1

1/2

"
Flanged Sleeve
Open
Zinc-Plated Steel
Double Ball
00000000
00000

3/8"-16

Stem Thread Size

Nonmarking Black Solid

Wheels—

Hard

2"

13/16

"
1
2

5/8

"
90
Durometer 70D

3/4

"
Flanged Sleeve
Open
Zinc-Plated Steel
Double Ball
00000000
0000
2"

13/16

"
1
2

5/8

"
90
Durometer 70D
1"
Flanged Sleeve
Open
Zinc-Plated Steel
Double Ball
00000000
0000
2"

13/16

"
1
2

5/8

"
90
Durometer 70D
1

1/2

"
Flanged Sleeve
Open
Zinc-Plated Steel
Double Ball
00000000
0000
2"
1

13/16

"
1
2

3/4

"
300
Durometer 70D
1

1/2

"
Flanged Sleeve
Open
Zinc-Plated Steel
Double Ball
00000000
0000

7/16"-14

Stem Thread Size

Nonmarking Black Solid

Wheels—

Hard

2"

7/8

"
2
2

3/4

"
250
Durometer 70D
2

1/2

"
Flanged Sleeve
Open
Zinc-Plated Steel
Double Ball
00000000
00000
2"
1

3/4

"
1
2

3/4

"
250
Durometer 70D
2

1/2

"
Flanged Sleeve
Open
Zinc-Plated Steel
Double Ball
00000000
00000

1/2"-13

Stem Thread Size

Nonmarking Black Solid

Wheels—

Hard

2"

13/16

"
2
2

3/4

"
220
Durometer 70D
1"
Flanged Sleeve
Open
Zinc-Plated Steel
Double Ball
00000000
0000
2"
1

13/16

"
1
2

3/4

"
300
Durometer 70D
1"
Flanged Sleeve
Open
Zinc-Plated Steel
Double Ball
00000000
00000
2"
1

13/16

"
1
2

3/4

"
300
Durometer 70D
1

1/2

"
Flanged Sleeve
Open
Zinc-Plated Steel
Double Ball
00000000
0000