Sanitary
Threaded-Stem

Casters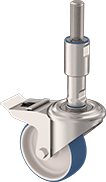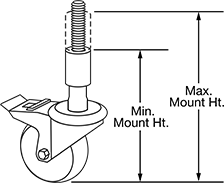 Designed for sanitary environments such as food plants, use these casters to move machinery, carts, furniture, and other equipment while compensating for uneven floors. They have a hygienic thread cover that prevents contaminants from settling in the grooves. To further block out contaminants even as the caster moves, there is a silicone seal at each end of the thread cover, as well as another seal where the caster swivels. The frame of these casters has a smooth finish and rounded edges, so there are no crevices for bacteria to grow in, reducing the chance of foodborne illnesses. Made of 304 stainless steel, the frame withstands washdowns and chemicals used for cleaning.
To comply with Hazard Analysis and Critical Control Point (HACCP) programs, all of the silicone seals have metal and chemical additives, so they can be picked up on metal detectors or X-ray machines. They're also FDA compliant for direct contact with food.
Level your equipment by adjusting the threaded stem. Rough surfaces and debris won't damage the polyurethane wheel on these casters because it resists abrasions and absorbs shocks. Press once on the foot pedal to lock both the wheel and the swivel. When it's not locked, swiveling is smooth thanks to the double ball swivel bearing.
For technical drawings and 3-D models, click on a part number.
Swivel with
Wheel Brake
and Total Lock

Dia.

Wd.

Mount


Ht.

Cap.

per


Caster,




lbs.

Hardness
Stem


Lg.

Adjustment
Style
Swivel
Bearing
Type
Frame
Material
Features
Specifications
Met
Each

3/4"-10

Stem Thread Size

Nonmarking Blue

Tread-on-Core

Polyurethane Rubber

Wheels—

Hard

3

15/16

"
1

5/16

"
8"-9

7/16

"
330
Durometer 60D
5

7/8

"
Nut
Double Ball
304 Stainless Steel
Hygienic Thread Cover
CE Marked, FDA Compliant 21 CFR 177.2600
0000000
0000000
3

15/16

"
1

5/16

"
9

3/16

"-11

13/16

"
330
Durometer 60D
8

1/4

"
Nut
Double Ball
304 Stainless Steel
Hygienic Thread Cover
CE Marked, FDA Compliant 21 CFR 177.2600
0000000
000000

1"-8

Stem Thread Size

Nonmarking Blue

Tread-on-Core

Polyurethane Rubber

Wheels—

Hard

3

15/16

"
1

5/16

"
8"-9

7/16

"
330
Durometer 60D
5

7/8

"
Nut
Double Ball
304 Stainless Steel
Hygienic Thread Cover
CE Marked, FDA Compliant 21 CFR 177.2600
0000000
000000
3

15/16

"
1

5/16

"
9

3/16

"-11

13/16

"
330
Durometer 60D
8

1/4

"
Nut
Double Ball
304 Stainless Steel
Hygienic Thread Cover
CE Marked, FDA Compliant 21 CFR 177.2600
0000000
000000