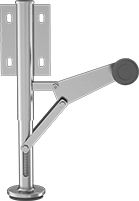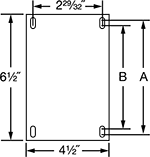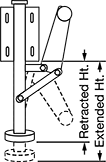 These locks bolt or weld to the side of equipment that can't accommodate a floor lock underneath. They're compatible with a wide range of caster mount heights. Use them to stabilize carts, trucks, workbenches, and other mobile equipment during loading and unloading. Floor locks have a spring-loaded base with a nonskid floor pad to keep equipment stationary.
Note: Floor locks are not load rated. They are designed to brake your equipment in place, not lift it off the floor.
For technical drawings and 3-D models, click on a part number.
Mounting Hole


Ctr.-to-Ctr.

For

Max.


Caster
Mount

Ht.

Extended
Retracted
Clearance

Lg.

Wd.

Lg.

Wd.




(A)

Wd.




(B)

Mounting
Fasteners
Included
For
Screw
Size
Each

Left Side Mounting

Top Retraction Pedal

11"
11

1/8

"
8

7/8

"
2"
4

1/2

"
6

1/2

"
2

29/32

"
4

13/32

"
3

19/32

"
No

3/8

"
00000000
0000000

Right Side Mounting

Top Retraction Pedal

11"
11

1/8

"
8

7/8

"
2"
4

1/2

"
6

1/2

"
2

29/32

"
4

13/32

"
3

19/32

"
No

3/8

"
000000000
000000