Steering
High-Capacity

Roller Dollies for Uneven Surfaces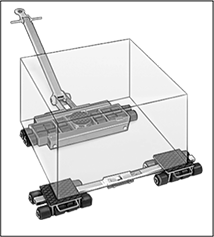 Styles B and D Shown Together

A

B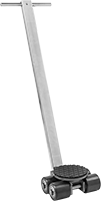 C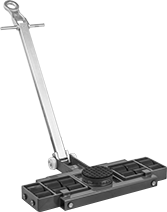 D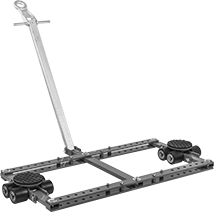 E
Use these dollies to move bulky loads over both level and uneven surfaces. The platforms are rubber-padded to grip loads without damaging the load surface. The rollers are nonmarking nylon.
Styles A and B are corner supports with two contact points connected by an adjustable bar that keeps them parallel. They have rigid platforms for straight-line movement.
Style B have handles on the dollies to make them easier to carry.
Styles C-E have a T-handle and swivel platform that allows for easy steering and turning. Use them alone or with Styles A and B corner supports.
Style D also have a ring for towing applications.
Style E have an adjustable frame with two contact points to fit a variety of loads. They have a ring for towing applications
Note: When using dollies together, use dollies with the same overall height.

A

B
Nylon Plastic Rollers
Style

O'all




Cap.,




lbs.

Lg.

Wd.

Ht.

Lg.

Wd.

Body
Color

No.


per
Dolly

Dia.

Features
Each
A
4,400
7

1/8

"
11

13/16

"-39

3/8

"
4"
6"
6"
Red
2
3"
__
00000000
0000000
A
6,600
6

11/16

"
11

13/16

"-39

3/8

"
4

5/16

"
6"
6"
Red
2
3

5/16

"
__
00000000
000000
B
13,200
10

13/16

"
25

1/4

"-40

9/16

"
4

5/16

"
7

7/8

"
8

11/16

"
Red
4
3

5/16

"
Carrying Handles
00000000
00000000
B
19,800
10

7/16

"
33"-48

7/16

"
4

5/16

"
7

7/8

"
12

5/8

"
Red
6
3

5/16

"
Carrying Handles
00000000
00000000
B
39,600
10

13/16

"
40"-56

5/16

"
4

5/16

"
7

7/8

"
16"
Red
8
3

5/16

"
Carrying Handles
00000000
00000000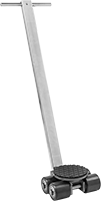 C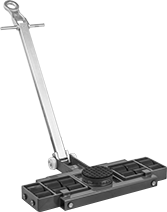 D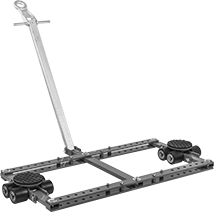 E
Nylon Plastic Rollers
Style

O'all




Cap.,




lbs.

Lg.

Wd.

Ht.

Platform


Dia.

Body
Color
Handle


Lg.

Eye


Dia.

Max.

Tow


Speed,


mph

No.


per
Dolly

Dia.

Each
C
4,400
6

11/16

"
10

5/8

"
4"
6

11/16

"
Red
40"
__
__
4
3"
00000000
0000000
C
6,600
6

11/16

"
10

5/8

"
4

5/16

"
6

11/16

"
Red
40"
__
__
4
3

5/16

"
00000000
000000
D
19,800
23"
33

1/8

"
4

5/16

"
6

11/16

"
Red
42

1/2

"
2"
1.25
12
3

5/16

"
00000000
00000000
D
39,600
24

7/16

"
40

5/8

"
4

5/16

"
6

11/16

"
Red
42

1/2

"
2"
1.25
16
3

5/16

"
00000000
00000000
E
13,200
23"
21

11/16

"-45

5/16

"
4

5/16

"
6

11/16

"
Red
38"
2"
1.25
4
3

5/16

"
00000000
00000000