Threaded-Stem

Casters with Polypropylene Wheels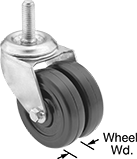 Dual-Wheel
Swivel with Brake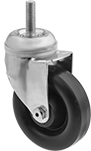 Swivel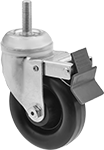 Swivel with Total Lock
Use these general purpose casters in a variety of applications. The lightweight polypropylene wheels on these casters are an economical option for smooth surfaces.
Dual-wheel casters provide better load distribution and easier turning than single-wheel casters.
Casters with wheel brake apply pressure to the wheel to stop movement with a press of the foot pedal. Casters with total lock brake the wheel and lock the swivel with one press of the foot pedal.
Casters without wheel bearings have a wheel that rides directly on the axle, making them an economical choice for equipment not frequently moved. Flanged-sleeve wheel bearings prevent wear to the wheel bore but don't roll as easily as other bearings. Roller wheel bearings provide smoother rolling than flanged-sleeve bearings and wheels without bearings.
Double-ball bearings in the swivel provide the smoothest swiveling.
Shielded bearings protect the bearing from dust and debris.
For technical drawings and 3-D models, click on a part number.
Dia.

Wd.

No.


of
Mount


Ht.

Cap.

per


Caster,

lbs.

Stem


Lg.

Type
Seal
Type
Frame
Material
Swivel
Bearing
Seal Type
Each

Swivel

3/8"-16

Stem Thread Size

Nonmarking Black Solid

Wheels—

Hard

2"

7/8

"
2
2

3/4

"
220
1

1/2

"
Flanged Sleeve
Open
Zinc-Plated Steel
Open
00000000
00000

1/2"-13

Stem Thread Size

Nonmarking Black Solid

Wheels—

Hard

2"

7/8

"
2
2

3/4

"
220
1

1/2

"
Flanged Sleeve
Open
Zinc-Plated Steel
Open
00000000
0000
3

1/2

"
1

1/4

"
1
4

13/16

"
250
1

1/2

"
Without Bearing
__
Zinc-Plated Steel
Shielded
0000000
00000
4"
1

1/4

"
1
5

7/16

"
300
1

1/2

"
Without Bearing
__
Zinc-Plated Steel
Shielded
0000000
00000
4"
2"
1
5

5/8

"
750
4"
Roller
Open
Zinc-Plated Steel
Open
0000000
00000
5"
1

1/4

"
1
6

7/16

"
300
1

1/2

"
Without Bearing
__
Zinc-Plated Steel
Shielded
0000000
00000
5"
2"
1
6

1/2

"
900
4"
Roller
Open
Zinc-Plated Steel
Open
0000000
00000
6"
2"
1
7

1/2

"
900
4"
Roller
Open
Zinc-Plated Steel
Open
0000000
00000

5/8"-11

Stem Thread Size

Nonmarking Black Solid

Wheels—

Hard

3

1/2

"
1

1/4

"
1
4

13/16

"
250
2"
Without Bearing
__
Zinc-Plated Steel
Shielded
0000000
00000
4"
1

1/4

"
1
5

7/16

"
300
2"
Without Bearing
__
Zinc-Plated Steel
Shielded
0000000
00000
5"
1

1/4

"
1
6

7/16

"
300
2"
Without Bearing
__
Zinc-Plated Steel
Shielded
0000000
00000

3/4"-10

Stem Thread Size

Nonmarking Black Solid

Wheels—

Hard

3

1/2

"
1

1/4

"
1
4

13/16

"
250
2

1/2

"
Without Bearing
__
Zinc-Plated Steel
Shielded
0000000
00000
4"
1

1/4

"
1
5

7/16

"
300
2

1/2

"
Without Bearing
__
Zinc-Plated Steel
Shielded
0000000
00000
4"
2"
1
5

5/8

"
750
4"
Roller
Open
Zinc-Plated Steel
Open
0000000
00000
5"
1

1/4

"
1
6

7/16

"
300
2

1/2

"
Without Bearing
__
Zinc-Plated Steel
Shielded
0000000
00000
5"
2"
1
6

1/2

"
900
4"
Roller
Open
Zinc-Plated Steel
Open
0000000
00000
6"
2"
1
7

1/2

"
900
4"
Roller
Open
Zinc-Plated Steel
Open
0000000
00000

Swivel with Brake

3/8"-16

Stem Thread Size

Nonmarking Black Solid

Wheels—

Hard

2"

7/8

"
2
2

3/4

"
220
1

1/2

"
Flanged Sleeve
Open
Zinc-Plated Steel
Open
00000000
0000

1/2"-13

Stem Thread Size

Nonmarking Black Solid

Wheels—

Hard

2"

7/8

"
2
2

3/4

"
220
1

1/2

"
Flanged Sleeve
Open
Zinc-Plated Steel
Open
00000000
0000

Swivel with Total Lock

1/2"-13

Stem Thread Size

Nonmarking Black Solid

Wheels—

Hard

3

1/2

"
1

1/4

"
1
4

13/16

"
250
1

1/2

"
Without Bearing
__
Zinc-Plated Steel
Shielded
0000000
00000
4"
1

1/4

"
1
5

7/16

"
300
1

1/2

"
Without Bearing
__
Zinc-Plated Steel
Shielded
0000000
00000
4"
2"
1
5

5/8

"
750
4"
Roller
Open
Zinc-Plated Steel
Open
0000000
00000
5"
1

1/4

"
1
6

7/16

"
300
1

1/2

"
Without Bearing
__
Zinc-Plated Steel
Shielded
0000000
00000
5"
2"
1
6

1/2

"
900
4"
Roller
Open
Zinc-Plated Steel
Open
0000000
00000
6"
2"
1
7

1/2

"
900
4"
Roller
Open
Zinc-Plated Steel
Open
0000000
00000

5/8"-11

Stem Thread Size

Nonmarking Black Solid

Wheels—

Hard

3

1/2

"
1

1/4

"
1
4

13/16

"
250
2"
Without Bearing
__
Zinc-Plated Steel
Shielded
0000000
00000
4"
1

1/4

"
1
5

7/16

"
300
2"
Without Bearing
__
Zinc-Plated Steel
Shielded
0000000
00000
5"
1

1/4

"
1
6

7/16

"
300
2"
Without Bearing
__
Zinc-Plated Steel
Shielded
0000000
00000

3/4"-10

Stem Thread Size

Nonmarking Black Solid

Wheels—

Hard

3

1/2

"
1

1/4

"
1
4

13/16

"
250
2

1/2

"
Without Bearing
__
Zinc-Plated Steel
Shielded
0000000
00000
4"
1

1/4

"
1
5

7/16

"
300
2

1/2

"
Without Bearing
__
Zinc-Plated Steel
Shielded
0000000
00000
4"
2"
1
5

5/8

"
750
4"
Roller
Open
Zinc-Plated Steel
Open
0000000
00000
5"
1

1/4

"
1
6

7/16

"
300
2

1/2

"
Without Bearing
__
Zinc-Plated Steel
Shielded
0000000
00000
5"
2"
1
6

1/2

"
900
4"
Roller
Open
Zinc-Plated Steel
Open
0000000
00000
6"
2"
1
7

1/2

"
900
4"
Roller
Open
Zinc-Plated Steel
Open
0000000
00000