Trash-Container

Casters with Rubber Wheels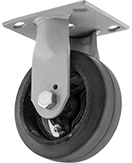 Rigid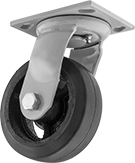 Swivel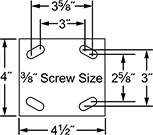 The legs on these casters are less angled than other casters to withstand the impact from containers that are frequently picked up and set back down. They have a soft, cushioning rubber tread for rolling on smooth and rough surfaces with a hard iron core for strength.
Wheels have sleeve bearings to prevent wear to the wheel bore, but these don't roll as easily as other bearings.
Swivel casters have shielded ball bearings for smooth swiveling and protection from dust and debris.
For technical drawings and 3-D models, click on a part number.
Dia.

Wd.

Mount


Ht.

Cap.

per


Caster,

lbs.

Hardness
Type
Material
Frame Material
Each

Rigid

Black

Tread-on-Core

Wheels—

Soft

5"
2"
6

1/2

"
350
Durometer 70A
Sleeve
Acetal Plastic
Powder-Coated Steel
00000000
000000
6"
2"
7

1/2

"
410
Durometer 70A
Sleeve
Acetal Plastic
Powder-Coated Steel
00000000
00000

Swivel

Black

Tread-on-Core

Wheels—

Soft

5"
2"
6

1/2

"
350
Durometer 70A
Sleeve
Acetal Plastic
Powder-Coated Steel
00000000
00000
6"
2"
7

1/2

"
410
Durometer 70A
Sleeve
Acetal Plastic
Powder-Coated Steel
00000000
00000