DFARS (Defense Acquisition Regulations Supplement)

DFARS

(Defense

Acquisition

Regulations

Supplement)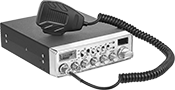 CB radios use nonbusiness designated frequencies and do not require a FCC license. A frequency is the discrete setting on which a radio's transmission is carried; radios must operate on the same frequency to communicate with each other.
Channels allow you to put different groups of users on an assigned frequency so they can operate within the same area without talking over each other. Change channels by dialing the knob.
The squelch control feature lets you filter out static when the radio isn't transmitting.
Mount an antenna on the outside of your vehicle for better reception.
Mount on the outside of a vehicle for better radio reception.
Mount
Type

Ht.

Cable


Lg.,

ft.

Material
Includes
Each
Magnet
35"
15
Stainless Steel
Antenna, Magnetic Base, Coaxial Cable
00000000
000000